Valiant Comics' 'Dr. Mirage' Might Talk To The Dead On The CW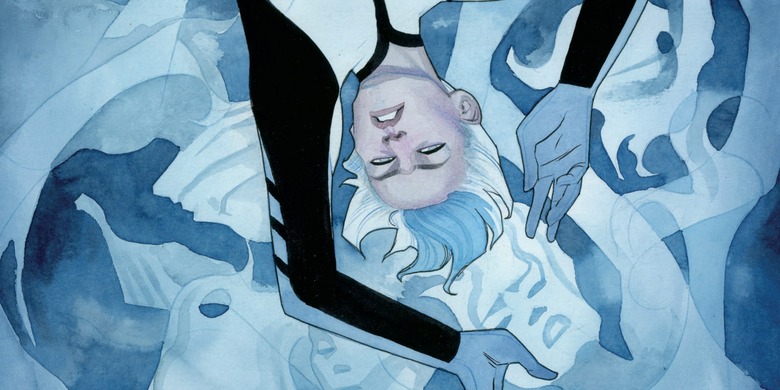 Apparently, six shows based on comic books isn't enough for The CW. The network already has Supergirl, The Flash, Legends of Tomorrow, Arrow, iZombie, and the upcoming Riverdale. Now Dr. Mirage might join that lineup too, as The CW is now in the very early stages of working with Valiant Comics and DMG Entertainment on a series about the semi-retired paranormal investigator.
Below, learn more about the Dr. Mirage TV series.
According to Deadline, this comic book adaptation is the first potential TV show from DMG Entertainment (Looper and the Point Break remake) and Valiant Comics. The CW has hired Gary Dauberman, who wrote Annabelle and co-wrote next year's adaptation of Stephen King's It, to write the pilot and executive produce.
Writer Bob Layton and illustrator Bernard Chang co-created Dr. Mirage. The character first appeared in issue 16 of Shadowman. In 1993, Layton wrote The Second Life of Dr. Mirage, an 18-issue series that lasted two years. Recently, the character was brought back by Valiant Comics and writer Jen Van Meter with The Death-Defying Dr. Mirage.
Some know Dr. Shan Fong as Dr. Mirage, a woman with the power to communicate with the dead. She often spends her time helping others cope with grief and solving murders, but the one spirit she can't talk to is the one she wishes to speak with the most.
Here's Valiant's description of their new take on the character:
Doctor Mirage talks to the dead...but the only spirit Shan Fong can't find is that of her late husband, Hwen. Instead, America's favorite semi-retired paranormal investigator is haunted and raw, using her gift to solve homicides and bring peace to the recently bereaved. But when a big-time occultist with a classified military past hires her for a special job, Shan discovers a lead that might close the greatest mystery she's ever tackled – how to get Hwen back. Now, Doctor Mirage must enter the undiscovered country and cross all the realms of the underworld, if she has any hope of rescuing the man she loves...or be forever lost beyond the earthly plane.
Just a few months ago CW president Mark Pedowitz told Comic Book Resources they have enough superhero shows. But Dr. Mirage sounds different from a lot of comic book heroes, especially the ones on The CW right now. While we've yet to see any of Valiant Comics' characters adapted for television and film, that'll soon change. Sony has plans for a Valiant Comics Universe, but we'll see how that pans out. Valiant also has the Ninjak web series coming up featuring Bloodshot.