Universal And Illumination's 'Sing' Holding Free Sneak Previews Over Thanksgiving Weekend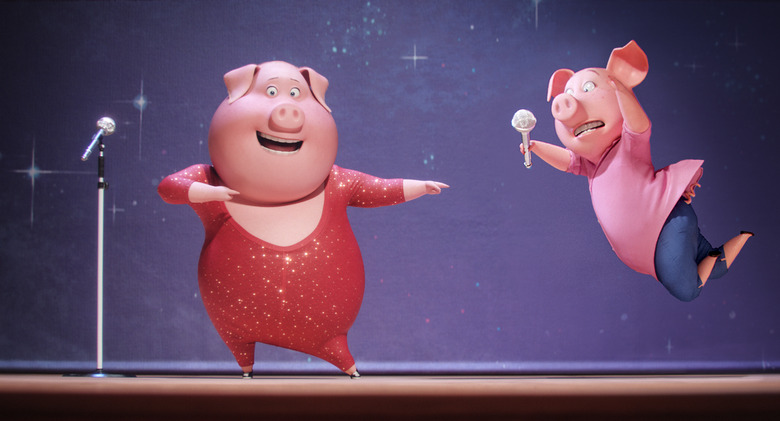 Sing may not have the brand-name recognition of a new Batman movie, or the critical pedigree of a Disney Animation project. But at this point, you'd be a fool to underestimate Illumination Entertainment's knack for making lots and lots of money.
The animation studio behind Minions and Secret Life of Pets clearly expect to rake in the dough with their next big feature, which combines anthropomorphic animals with an American Idol-style singing competition. They're so confident, in fact, that they're going to let the first audiences see it for free. Universal has announced free preview screenings of Sing to take place Thanksgiving weekend, in AMC theaters across the country. 
Per the press release:
Tickets for "SING Saturday" screenings are available on a first-come, first-served basis to the first 200 moviegoers in line at participating AMC Theatres on Saturday, November 26 (10 a.m. local time).
You can get more details, including a list of participating AMC theaters, at SingSaturday.com.
By holding previews Thanksgiving weekend, Sing will be a thorn in the side of Disney, whose Moana opens a few days earlier on November 23. Not enough to keep Moana from doing big business, surely – Sing is only playing at one chain, for one showtime only, whereas Moana will be freakin' everywhere around the clock — but it's not hard to imagine a small handful of families weighing the two options for a family outing and going with Sing.
I caught Sing at TIFF, and it's basically exactly what we've come to expect from Illumination: sturdy, reliable, totally inoffensive, and mostly pleasant. It won't break any new ground artistically or thematically, but it'll do just fine at entertaining kids without annoying the adults too much. (The annoying part will probably come later, when their kids keep singing these repurposed pop hits for months on end.)
Standouts among the star-studded cast include, surprisingly, Seth MacFarlane as a Sinatra-esque mouse. Reese Witherspoon, Matthew McConaughey, Scarlett Johansson, Taron Egerton, and Tori Kelley also lend their voices to the show.
Sing's regular theatrical run begins December 21.