Relativity Still Planning 'Immortals 2', But Does Anyone Want To See It?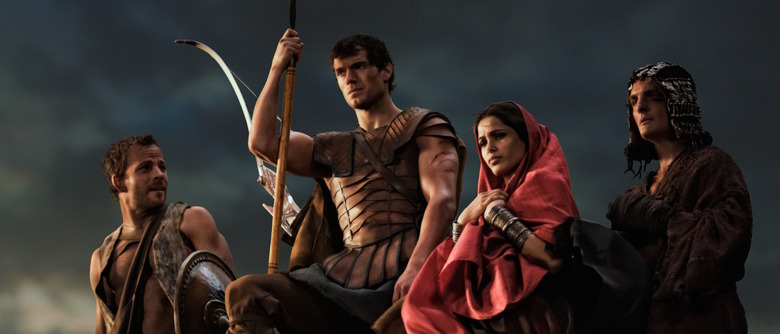 Tarsem Singh's Immortals isn't talked about much these days, but it was a decent hit in its time. With a worldwide box office total of $226 million, the 2011 fantasy actioner is still Relativity's highest-grossing release to date. And now it's headed where all successful films go these days — into sequel territory. Relativity Studios is teaming with Storyoscopic Films for Immortals 2, along with a bunch of other follow-ups including November Man 2, Act of Valor 2, and Earth to Echo 2. 
Screen Daily reports Relativity and Storyoscopic have announced a joint venture that will see the latter producing and financing about five projects a year. Apparently Relativity is looking to steer its focus toward "family films and branded features with global appeal," while Storyoscopic, which launched in 2013, likes to make "family and genre films in the $15-50 million range." Sounds like a match.
On the one hand, it's not that surprising Immortals is getting a sequel. The first film was a modest commercial success, and the premise — gods and mortals entangled in a battle for the future of humanity — seems like it could yield a few more features' worth of stories. Moreover, Relativity has definitely been considering the possibility of an Immortals 2 for some time. In 2015, Relativity CEO Ryan Kavanaugh said the script was "almost ready" and that Henry Cavill was expected to return. Whether those things are still true is unclear.
But it also seems fair to wonder who's really asking for an Immortals sequel right now. If there's anything we learned this summer, it's that sequels aren't a sure thing. Just because Snow White and the Huntsman or Alice in Wonderland made money, doesn't mean audiences are necessarily interested in The Huntsman: Winter's War or Alice Through the Looking Glass.
As for the other sequels, Relativity was plotting a sequel to The November Man before the first film even opened. Those plans seemed to stall out when November Man opened to tepid reviews and box office totals, but now that Relativity has some cash on hand I suppose it makes sense that they want to keep going. Likewise, Relativity has wanted to make a SWAT-themed Act of Valor sequel since about 2013. And Earth to Echo ended in a way that suggested future films could be coming, even if nothing had officially been greenlit at that point.
Besides all those sequels, Relativity and Storyoscopic are also teaming on several animated films including Animal Crackers (which already has a voice cast), Ice Moon Rising from Riddick director David Twohy, and Loyal Order of Snowmen from Little Chicken writers Ron J. Friedman and Steve Bencich, plus the live-action family film Save the Panda from Bencich. They've also got some TV projects in development including Holoscape, from Roddenberry Entertainment.