Lin-Manuel Miranda Is Working On A Secret Disney Project With 'Zootopia' Director Byron Howard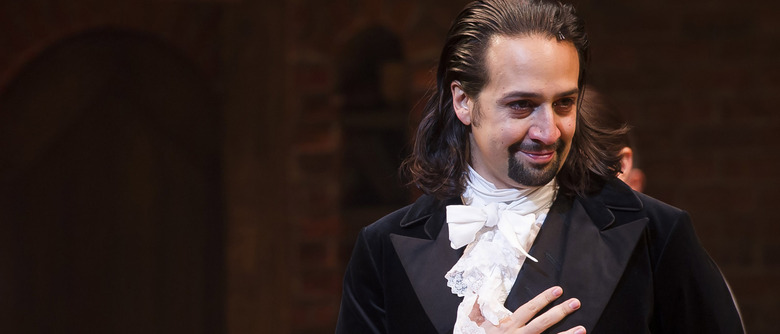 Lin-Manuel Miranda has kept himself busy since leaving the Hamilton stage this summer, in a large part by teaming up with Disney. He's composed music for this month's Moana, will co-star in Mary Poppins Returns, and even signed up to help out with the live-action remake of The Little Mermaid. And the relationship won't stop there. Miranda has revealed he's working with Zootopia co-director Byron Howard on a new animated film. 
Vulture heard about the Lin-Manuel Miranda Disney movie straight from Miranda himself. Miranda wouldn't offer many details about the upcoming film, but was happy to talk up his collaboration with Howard and Disney. "That's the fun thing about working with someone and having it go well — you go, 'Okay, what else can we do?'" he said. "[Disney chief creative officer John] Lasseter took me aside and said, 'I have an idea: Here's Byron, and you guys should start talking.'"
However, it might be a while before we actually see the results of their labor. Animated films can take years to get through development and production, and Miranda and Howard's movie is still in the early stages. "We literally haven't gotten in the room yet, but we're plotting," he teased.
While that simmers, Miranda will have plenty of other Disney projects to keep him occupied, including the new take on The Little Mermaid. In August, we heard Miranda had signed on to produce, help supervise the story (though not write the screenplay), and write new music with original Little Mermaid composer Alan Menken. However, Miranda clarifies that his role hasn't been nailed down quite yet. "We're in super-early talks — I literally don't have a title for what my job on The Little Mermaid is yet," he said. "Right now, it's the guy who wears the 'don't mess it up' hat."
Fans of Miranda's work as Alexander in Hamilton and Usnavi in In the Heights maybe be wondering if he could have a role onscreen in addition to his work behind the scenes. But Miranda claims not to know. "I'm such a fan that I can't picture where I'd fit into that universe," he said. "But no matter what, I'm here for the ride." Personally, I think he'd make a pretty good Sebastian — after all, he even named his son Sebastian partly as a tribute to that poor beleaguered sidekick.