FX's 'Y: The Last Man' Gets 'American Gods' Writer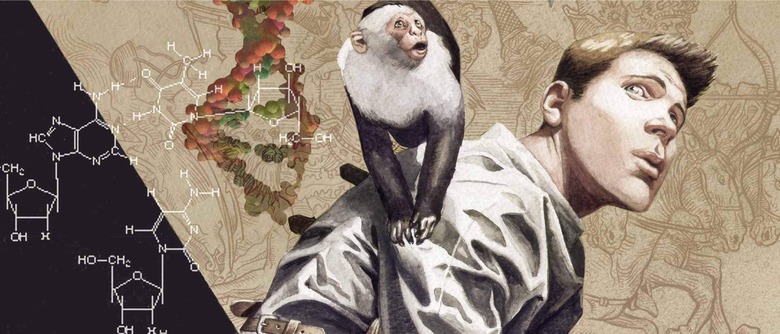 The ongoing saga of Y: The Last Man's journey to the screen has taken another promising turn. Michael Green has been tapped as showrunner on the planned FX series, which is based on Brian K. Vaughan's acclaimed comic book series. Green's recent work includes Starz's American Gods (another long-simmering adaptation of a beloved geek property), the Wolverine spinoff Logan, and Denis Villeneuve's Blade Runner 2049. 
According to The Hollywood Reporter, Green will co-write the script for Y: The Last Man with Vaughan. Illustrated by Pia Guerra, Vaughan's comic book series begins with the sudden, simultaneous, and totally unexplained death of nearly every mammal with a Y chromosome. Among the very few survivors are a young man named Yorick Brown and his monkey Ampersand. The pair set out into a post-apocalyptic world to find Yorick's loved ones and discover what caused the mysterious plague, as well as the reason they alone were spared.
The series yielded 60 issues between 2002 and 2008, and was massively successful with both fans and critics. As I recall, it was the kind of comic book that even people who didn't really read comic books (like myself, at the time) were reading. Y: The Last Man earned three Eisner Awards and a Hugo nomination.
FX put Y: The Last Man in development as an ongoing drama series last year. The project is still in the early stages at this point, though getting a writer and showrunner on board is an encouraging step forward. Previously, Y: The Last Man had been in on-again, off-again development for years as a potential movie adaptation, before the rights reverted to Vaughan in 2014. Color Force's Nina Jacobson and Brad Simpson are teaming with FX and FX Productions on the Y: The Last Man TV series.
Green's film credits include Green Lantern and the upcoming Alien: Covenant and Murder on the Orient Express. On the small screen, he created Kings and has written for Sex and the City, Smallville, Heroes, Gotham, and more. He's serving as co-showrunner of American Gods with Bryan Fuller, though it's unclear whether that will change if and when Y: The Last Man gets picked up. In addition, he's known for his work on comic books like Superman/Batman and Supergirl.