Warwick Davis' 'Rogue One: A Star Wars Story' Character Revealed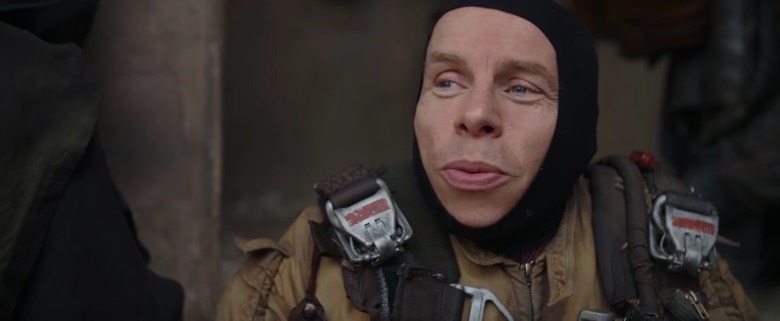 More than three decades after he first appeared in Star Wars: Episode VI — Return of the Jedi, Warwick Davis has returned to the galaxy far, far away for Rogue One: A Star Wars Story. But he's not playing Wicket this time, or even any of his Phantom Menace characters. Instead, he's portraying someone entirely new. To get your first look at the Warwick Davis Rogue One character, click on through. 
Keep your eyes peeled and see if you can find the Warwick Davis Rogue One character in this TV spot.
Did you find him? If not, no worries — Davis shared a photo of the character on Twitter.
My @starwars #RogueOne character made the TV trailer cut. Incidentally, this is the first #StarWars character I've played who has a blaster! pic.twitter.com/zTcPnq9BEN

— Warwick Davis (@WarwickADavis) November 14, 2016
But you might have recognized the character even sooner if you caught this behind-this-scenes photo from last week.
A new @Disney #RogueOne BTS image released featuring me on the set of this new #StarWars story... Flip your screen to see what I look like! pic.twitter.com/aLIS3HDWeX

— Warwick Davis (@WarwickADavis) November 7, 2016
Davis hasn't disclosed much about his character, but he appears to be an alien Rebel fighter who's handy with a blaster. He doesn't seem to be a major character in the movie, but no doubt this guy will get a full name and elaborate backstory somewhere down the line, all the better to promote his inevitable tie-in action figures. And we'd put money on his name starting with a W.
Davis, who is also known for his roles in Willow and the Harry Potter series, began his acting career playing Wicket in Return of the Jedi when he was just an adolescent. He returned to the franchise in Star Wars: Episode I — The Phantom Menace, playing Wald and Weazel and, in some scenes, Yoda. Davis rejoined the franchise for Star Wars: The Force Awakens to play Wollivan, seen in Maz's castle. He is also confirmed to appear in Star Wars: Episode VIII, although it is not clear yet whether he'll be playing a brand-new character or returning to one he's portrayed before.
Rogue One: A Star Wars Story opens December 16.