How Marvel And Fox Made A Character Trade For 'Deadpool' And 'Guardians Of The Galaxy Vol. 2'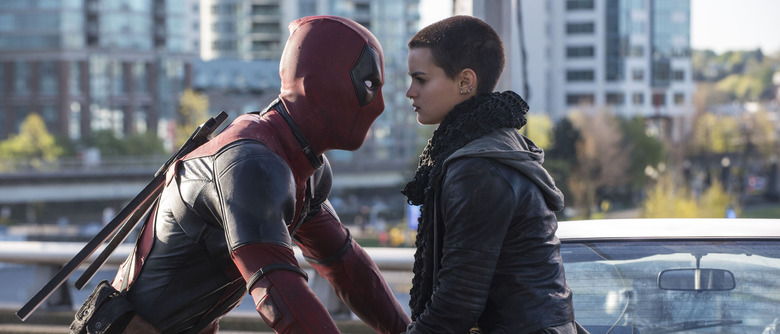 Deadpool made a lot of unusual moves that paid off in a big way, including the decisions to go R-rated and to stick to a midrange budget (as opposed to the gazillion-dollar price tags that most superhero movies get nowadays). But one proved beneficial not just to Deadpool, but to a certain project over at rival Marvel Studios. It turns out that in order to make big changes to one Deadpool character, Fox had to give Marvel back the rights to a certain character who'll appear in Guardians of the Galaxy Vol. 2. 
The unexpected Deadpool Guardians of the Galaxy Vol. 2 connection was revealed at a recent event in Los Angeles (via The Playlist). According to Deadpool screenwriters Rhett Reese and Paul Wernick, Negasonic Teenage Warhead, the breakout character played by Brianna Hildebrand, was chosen to be in Deadpool solely because she had a cool name (which itself was borrowed from the stoner rock band Monster Magnet).
"We were looking down the list of the 400 characters that Fox owns, and NTW jumped out and we were like, 'yes,'" recalled Wernick. "'I don't care what her powers are. She's gonna be in the movie.'"
But in order to include her in Deadpool, Reese and Wernick wound up changing basically everything about the character, up to and including her powers. In the comics, she is telepathic and precognitive, while her big-screen counterpart is explosive. That meant 20th Century Fox had to get the okay from Marvel Studio, which wanted a certain character in return.
"Kurt Russell ['s Ego the Living Planet] in the new Guardians movie was the character that Fox swapped with Marvel to [change] Negasonic Teenage Warhead powers," said Wernick.
Funnily enough, Monster Magnet also has a song called "Ego, the Living Planet," although in this case the band was paying homage to the comics.
Update from editor Peter Sciretta: Guardians of the Galaxy series director James Gunn has now confirmed this story via his facebook page, posting the following statement:
"When I first pitched Ego as Quill's father, I THOUGHT we owned the character. After I had worked out a very elaborate story with Ego the Living Planet as a very important part of the Marvel cosmic universe, I learned that we actually didn't own the character. I had no back up plan, and it would be nearly impossible to just drop another character in. Thank God Fox came to us and wanted to make a trade."
I wonder what Marvel and Disney would have done if Fox was unwilling to give up the character.
Angie Han's original story follows:
It's a little surprising that 20th Century Fox would have had the rights to Ego the Living Planet to begin with, considering that the character first appeared in a Thor comic. But he's also brushed up against plenty of other characters including the Fantastic Four, which Fox still holds the rights to (much to the regret of fans who've been disappointed by Fox's Fantastic Four movies and would like Marvel Studios to take a crack at them).
The trade seems to have worked out beautifully for 20th Century Fox. Negasonic Teenage Warhead proved a perfectly entertaining companion to Deadpool, able to undercut his goofy irreverence with her own deadpan snark. We'll find out next year how it panned out for Marvel Studios, when Guardians of the Galaxy Vol. 2 opens in theaters. Considering they managed to attract Kurt Russell to the role, though, we're guessing it'll turn out to be a win-win.