'Jurassic World' Sequel Starts Shooting In March, Will Connect More Strongly To 'Jurassic Park'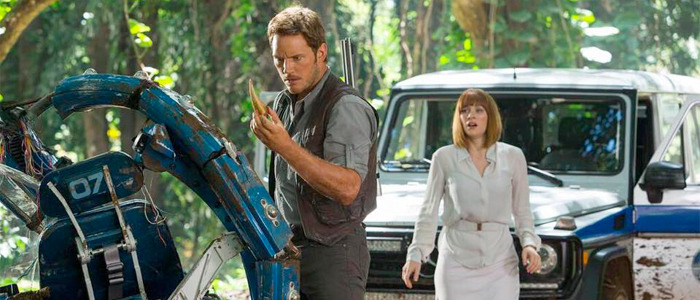 The Jurassic Park franchise reopened its doors last year with Jurassic World, and while the theme park itself predictably proved to be another disaster, the film was a resounding success. Which, naturally, means the adventure will continue in future movies. Earlier this year, J.A. Bayona was announced as the new director for the sequel, and now he's revealed shooting will get underway in March.
But perhaps the bigger question is what exactly that Jurassic Park sequel will entail. Jurassic World was technically a sequel to Jurassic Park, but also felt like a new start, like its own thing. And the next film? According to Bayona, it'll serve as both Jurassic World 2 and Jurassic Park 5. 
Bayona confirmed the Jurassic World start date to Coming Soon. "We're working on it already, and shooting starts in March," he said. Bayona was understandably vague about the details, but emphasized it'd be a "very personal" film for him:
Every story is different and you need to find the depth of every story and try to express it on the screen. The 'Jurassic World' sequel is a more collaborative filmmaker experience, not only with Colin Trevorrow, but also with Steven [Spielberg] and with Frank Marshall. It's their baby as much as it is mine. It's about sharing views and working together to bring the story to life. But, at the same time, the way I face telling a story is to find something very personal. I think there will be plenty of myself also in the film.
As personal as the Jurassic World sequel may be, it's still part of a larger franchise. While Jurassic World acknowledged the events of Jurassic Park, it functioned much like a soft reboot, bringing in a mostly new cast of characters and introducing new challenges. In a chat with Cinema Blend, Bayona suggested that his film would tie Jurassic World and Jurassic Park more closely together.
That's a good question! I think somehow it's both. It's a very good question, and what we're doing is a sequel to Jurassic World, but it's definitely the fifth chapter of a longer saga. It's very interesting. It's always tricky, but you need to find a balance in what people expect to find, and the new stuff you're bringing to the story. And I think the story is looking for a connection between Jurassic World and Jurassic Park — more than what Jurassic World did.
And, of course, Jurassic World 2 (or whatever it ends up being called) will pave the way for Jurassic World 3 (or whatever that ends up being called). "I think what this film does is it's the second chapter of the story that started in Jurassic World, and it's open to a third chapter too," he said.
The Jurassic World sequel opens June 22, 2018. Chris Pratt and Bryce Dallas Howard will return to star from the first film, and Rafe Spall and Toby Jones were recently added to the cast.