Steven Knight Talks 'Taboo' TV Series: "I Don't Think Anything Has Ever Been Like It"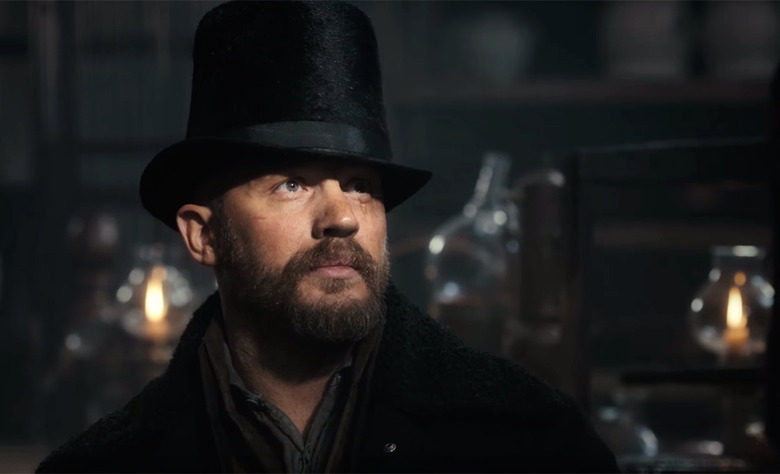 Taboo marks another collaboration between Steven Knight and actor Tom Hardy. The BBC and FX series follows up their work together on Peaky Blinders season two and Knight's spellbinding second feature, Locke. The dark and atmospheric trailer for their series made it look unlike any show coming out. In Knight's opinion, there hasn't ever been a show quite like it.
Below, Steven Knight discusses the  Taboo TV series.
Steven Knight, Tom Hardy, and Hardy's father, Chips Hardy, created the eight-episode series. Set in 1814 during wartime, the story follows James Keziah Delaney (Hardy), who returns to London from Africa. After inheriting his father's shipping empire, which he refuses to sell to the East India Trading Company, Delaney makes some new enemies and discovers some dark family secrets. Knight has described the story as Delaney's seriously flawed character "taking on everybody," and the story is whether "he succeeds or fails."
We recently spoke with Knight for his latest film, Allied, which he wrote and Robert Zemeckis directed. During our conversation with the screenwriter, we asked about his latest collaboration with Hardy and the advantage of writing material with the talented actor mind:
If you do anything with a really brilliant actor, like him, you know what he's capable of, and you know where there's no point in going in certain directions. With Taboo, knowing he was there and had this great cast around him, you could really, with the dialogue... It's really enjoyable to have turn of phrase you wouldn't have anyone else say. There can be so much going on inside his head that you know that's going to be reflected on the screen. I think people are going to love it.
The first trailer gave a sense of the type of dialogue Knight is talking about. "The beast with a million eyes and a million ears," Hardy's character says, eloquently and viciously describing the East India Trading Company. "Conquest, rape and plunder — and I do know the evil that you do because I was once a part of it." It's a great, tense moment in the trailer, followed by some mysterious and nightmarish imagery.
Knight went on to praise the show's two directors:
Wait until you see it. I don't think anything has ever been like it. Both directors, Kristoffer [Nyholm] and Anders [Engström], were brilliant. It's going to be interesting.
Nyholm, who directed the original Danish version of The Killing, helmed the first four episodes of Taboo. The other four episodes were directed by Engstöm (The Kiss of Evil). Jonathan Pryce (Listen Up Phillip), Michael Kelly (House of Cards), Leo Bill (The Fall), Oona Chaplin (Black Mirror), and more co-star in the Ridley Scott-produced series. A premiere date isn't set yet, but in the meantime, we can continue to look forward to what Knight, the Hardy men, and all involved have in store for us with Taboo.
Here's the official synopsis:
Set in 1814, Taboo follows James Keziah Delaney, a man who has been to the ends of the earth and comes back irrevocably changed. Believed to be long dead, he returns home to London from Africa to inherit what is left of his father's shipping empire and rebuild a life for himself. But his father's legacy is a poisoned chalice, and with enemies lurking in every dark corner, James must navigate increasingly complex territories to avoid his own death sentence. Encircled by conspiracy, murder, and betrayal, a dark family mystery unfolds in a combustible tale of love and treachery.
Taboo is expected to air early next year on BBC One and FX.