"Leaked" 'Mr. Robot' Season 3 Script Shows Elliot's Reaction To Trump's Presidency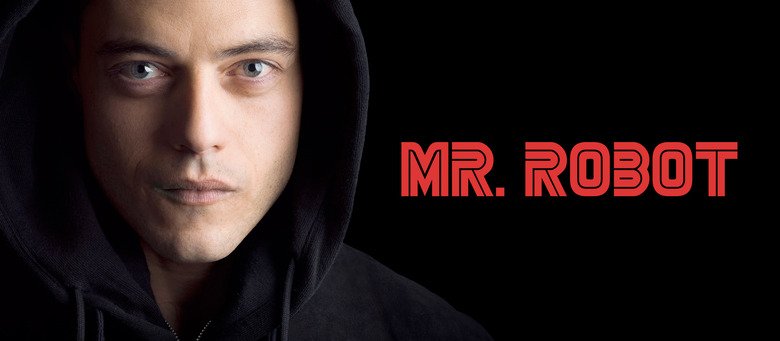 Mr. Robot protagonist Elliot Alderson (the character, not the actor, Rami Malek) isn't happy with Donald Trump being elected President of the United States. This morning, Mr. Robot creator/showrunner Sam Esmail shared a "leaked" page from a season 3 script in which Elliot explains to his therapist Krista why society disappoints him so much.
In the screenplay, Elliot responds:
"Oh, that's easy. Donald Trump was just elected president of the United States."
Krista takes a beat, nods, and only replies, "Good point."
Sam Esmail has been very vocal about the election results, making the following tweets following Election night:
But the fun started when a follower asked Esmail "who do you think Elliot Alderson would vote for if he would vote or how would Mr robot play into today's America?" The showrunner responded, "Not sure, Mr. Robot isn't as dark as this reality we're currently in" and later noting that Trump would be "too on the nose" as an Evil Corp member. And here is a screenshot of that "leaked" scene from Mr. Robot Season 3:
It would easy to write this off as a just a fun way of expressing his views on social media, but Mr. Robot has often used current events (even stuff happening days before the airing of an episode) to influence the storytelling on the screen. So could we see this scene in Mr. Robot season 3? Probably not, it's too on the nose for Esmail's tastes. But I do expect that the series will address the change in the presidency, as we've already seen President Obama address the E-Corp hacks on screen on the show. And judging from Esmail's thoughts on Trump's win, I can only guess that he will play an antagonist background role in the upcoming third season.
This summer USA Network announced the third season of Mr. Robot, which will air sometime in 2017. I don't believe principal photography on that season has even begun, so it should be a long while before we actually see Elliott react to the change in current events.