'Trainspotting' Author Irvine Welsh Teases Possible TV Series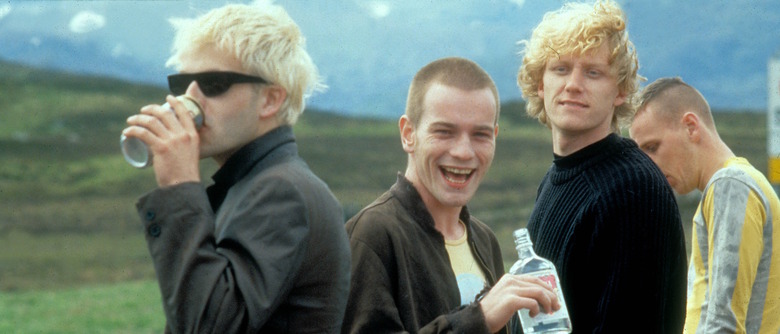 Just last week we saw an encouraging trailer for Danny Boyle's T2: Trainspotting. As some of you may recall, Boyle spent many years talking about the sequel. Plenty of the 1996 film's fans were skeptical it would ever happen, but in now less than three months, we'll see the return of Renton (Ewan McGregor), Sick Boy (Johnny Lee Miller), Spud (Ewen Bremner), and Begbie (Robert Carlyle). According to the creator of this gang, author Irvine Welsh, Boyle's sequel might not be the last time we see them, either.
Below, learn more about a possible Trainspotting TV series.
Welsh has been fascinated by his Trainspotting characters for a long time now. After Trainspotting was published in 1993, the author wrote its divisive sequel, Porno, and its prequel, Skagboys, in addition to a recently released spinoff, The Blade Artist, which follows Begbie. In a new interview with NME, Welsh said he believes there are still more stories to tell about these characters — and possibly on television.
When asked if any other future adaptations involving Trainspotting's characters are possible, Welsh responded with his plans, hinting at a TV show:
Basically, I've plans for them all. All in various kind of schedules or adaptations. It's all ruling on cable TV, cable TV has some interesting developments. We're working on all these different kind of things. I think now anybody who's in the book, whether the like it or not, they're working on the way of being in the film. You keep that in mind. As soon as you've written it, you're thinking about how it can move into different mediums.
That's all Welsh had to say about opportunities for Renton and Sick Boy to reappear, but he had kind words for their upcoming appearance in Boyle's T2: Trainspotting:
We were all nervous before we decided to do it... [but] once we saw the script, everybody was confident that we were certainly not going to trash the legacy of the first film and that we were going to build on it. It has managed to take the most dynamic elements of the [Trainspotting] book and [the sequel] Porno but also look forward to how it can be contemporary and present day... In some ways, I think it's a better movie [than Trainspotting]... They have become such iconic characters and this is going to cement that status even more.
Welsh added the sequel "feels like a big epic movie" and "a great standalone film," which doesn't sound like such a bad place to leave these characters, but the author clearly has other ideas for them. Whether we ever see any of these plans come to fruition, time will tell, but in the meantime, at least we have T2: Trainspotting to look forward to.
T2: Trainspotting opens in limited release on February 3rd, 2017.