Netflix Will Lose All Of These Networks' TV Shows At The End Of 2016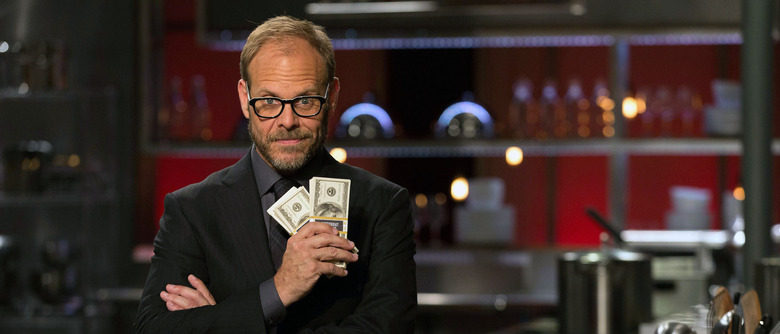 Netflix subscribers have been grumbling for a while about the service's shrinking catalog of movies and shows, and we've got a bit more bad news for you today on that front. If you've been meaning to catch up with Man v. Food, or love binging Property Brothers, or want to revisit old episodes of Chopped, you'd best do that all right now. Scripps Networks Interactive has announced they won't renew their streaming deal with Netflix. Their channels include Food Network, Travel Channel, HGTV, and DIY Networks.
The deal dates back to fall 2014, when Scripps got into bed with Netflix after ending its previous relationship with Amazon Prime Video in March. It won't expire until the end of the year, so Netflix viewers still have a few more weeks to enjoy Scripps shows. Those include Food Network's Chopped, Diners, Drive-ins and Dives, Food Network Star, Cupcake Wars, and Cutthroat Kitchen; HGTV's Property Brothers, House Hunters, Flip or Flop, Fixer Upper, and Love It or List It; Travel Channel's Man v. Food and Expedition Unknown, and DIY Network's Kitchen Crashers.
The decision, of course, comes down to money. Specifically, Scripps' nagging feeling that they could be making more of it. In an earnings call, COO Burton Jablin said the Netflix deal "really is not the kind of dual-revenue model that best monetizes our content over the long term." CEO Kenneth Lowe was more direct and specific, explaining that they were losing ad dollars (because Netflix doesn't play ads). "We have such compelling content for advertisers that we just don't want to really cut ourselves off from any opportunity," he said.
This might not be a huge loss if you're not a fan of these particular shows, but it's an interesting look into the current state of the industry. As we've discussed before, licensing outside content has only gotten more expensive for Netflix as competitors like Amazon and Hulu have entered the fray. For related reasons, Netflix has started dedicating more of its resources to developing in-house content, with the goal of reaching about 50% original programming within the next few years. It's good for viewers in that there's more stuff to watch than ever, but bad in that if you want to watch a wide range of stuff, you might find yourself needing to subscribe to multiple services.