It's Official: 'Young Justice' Will Return For Season 3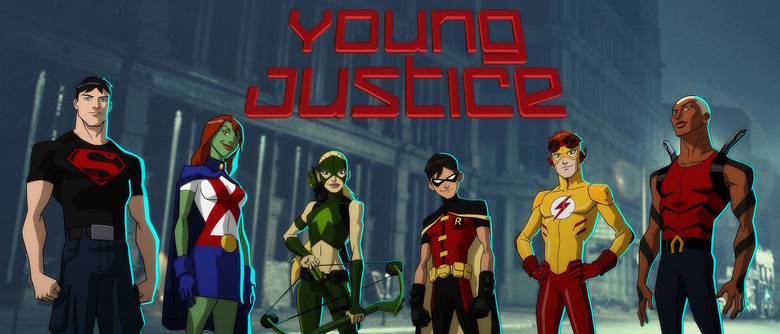 It's the news Young Justice fans have been waiting literally years to hear: DC Animation has officially confirmed the animated teenage superhero series will return for a third season. The series had been cancelled in 2013 by Cartoon Network, despite boasting strong ratings, critical acclaim, and a devoted fanbase.
Get up to speed on Young Justice season 3 below. 
DC Comics has announced that Warner Bros. Animation has already begun production on brand-new episodes of the beloved series. Producers Brandon Vietti and Greg Weisman will return. Beyond that, details are sparse. There's no word on when Young Justice season 3 might premiere. Nor does the series have a network home at this point, though rumors have been swirling for months that Netflix (which already has the first two seasons in its catalog) might be interested.Young Justice centers on a group of teenage superheroes, many of whom are best known as sidekicks or supporting players to older, more prominent characters. The original lineup includes Robin, Aqualad, Kid Flash, Superboy, Miss Martian, Artemis, with characters like Zatanna and Rocket being added later on. While no plot details have been revealed about Young Justice season 3, the press release promises "new twists, turns and dangerous new threats for the team, but most importantly, the opportunity for fans to finally continue the adventures of some of their favorite Super Heroes."
There's been much speculation about why Young Justice was axed to begin with. Unlike a lot of brilliant-but-prematurely-cancelled series, Young Justice actually had plenty of viewers. But the short story is that it seems to come down to toy sales. In 2013, Paul Dini told Kevin Smith (via io9) that Young Justice had been canned because Warner Bros. felt the show's female audience wasn't buying enough toys, and wanted to focus on younger boys.
In the years since, there have been periodic rumblings that the show could make a return, and occasional fan petitions and campaigns to try and make it so. Talk heated up earlier several months ago when Weisman told fans that if they wanted another season, they should buy the first two seasons on Blu-ray or stream them on Netflix. In August Weisman clarified that a Netflix deal was "not happening YET," and of course fans were quick to pick up on that "yet." We'll see if the Netflix part of those stories pans out, but in the meantime, celebrate by gazing upon the teaser poster below.