Albus Dumbledore Confirmed To Appear In 'Fantastic Beasts And Where To Find Them' Sequel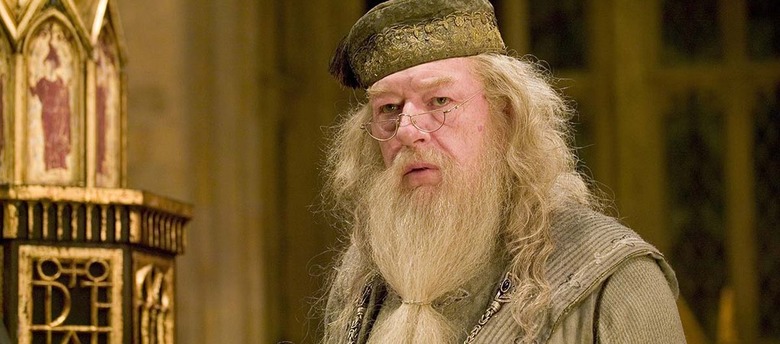 Now and then we've heard Professor Albus Dumbledore might make an appearance in the Fantastic Beasts and Where to Find Them series, which will now be five films instead of three, if all goes according to plan. While making the press rounds for the first installment in author/screenwriter J.K. Rowling's new series, director David Yates confirmed the headmaster of Hogwarts is going to appear in the Fantastic Beasts and Where to Find Them sequel.
Below, learn a little bit more Dumbledore's role in the next Fantastic Beasts installment.
Fantastic Beasts and Where to Find Them is set in 1926, which means Dumbledore is either 44 or 45 years old during the events of the film. If you can think of any actor in that age range who has what it takes to follow in Michael Gambon and the late Richard Harris' footsteps, then let David Yates know the next time you see him because he's currently on the lookout for an actor for the part (source: Screen Rant):
In the second movie Dumbledore comes back. He's got a couple of good scenes with Newt... We're discussing who would play Dumbledore, any suggestions would be good. [Laughs]
So he'll have a couple of scenes with Newt, but will he have any scenes with Johnny Depp? We recently learned the actor signed up to co-star in the franchise. Apparently, Depp makes a cameo in Fantastic Beasts and Where to Find Them, but we'll have to wait and see if that's the case, and whether he's playing Gellert Grindelwald or not.
If you don't know your Potter history, Grindelwald was Dumbledore's friend turned foe. The two had an epic, legendary battle that left possibly the most powerful wand ever to exist, the Elder Wand, in Dumbledore's hands. In the Harry Potter novels, this fight occurred in 1945, so it seems unlikely we'll see it depicted in the Fantastic Beasts and Where to Find Them franchise unless they make a significant time jump.
Here's the official synopsis for Fantastic Beasts and Where to Find Them, which, based on the early reactions, begins with great promise:
"Fantastic Beasts and Where to Find Them" is an all-new adventure returning us to the wizarding world created by J.K. Rowling. Academy Award winner Eddie Redmayne stars in the central role of wizarding world magizoologist Newt Scamander, under the direction of David Yates, who helmed the last four "Harry Potter" blockbusters. The film opens in 1926 as Newt Scamander has just completed a global excursion to find and document an extraordinary array of magical creatures. Arriving in New York for a brief stopover, he might have come and gone without incident...were it not for a No-Maj (American for Muggle) named Jacob, a misplaced magical case, and the escape of some of Newt's fantastic beasts, which could spell trouble for both the wizarding and No-Maj worlds.
Fantastic Beasts and Where to Find Them opens in theaters November 18th. The sequel will hit cinemas two years later on November 16th, 2018.