'Fantastic Beasts' Early Buzz: Does It Recapture That Harry Potter Magic?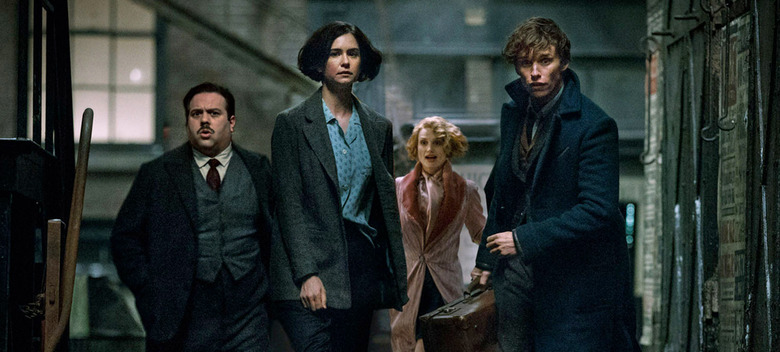 It's easy to understand why Warner Bros. wanted to make Fantastic Beasts and Where to Find Them. The Harry Potter movies were basically a license to print money. Done right, a spinoff could be the perfect way to keep the dough rolling in — and in fact, early box office tracking suggests this film is poised to do just that.
But the more relevant question for fans, of course, is whether the film can really conjure up that old Harry Potter magic again. Those who've been following this franchise for years have high hopes for this return to the wizarding world. So does it deliver? Does it deliver enough to justify the fact that Warner Bros. has a total of five films planned already? The first reactions to the film are in, and the good news is that they're looking pretty upbeat. Get the Fantastic Beasts early buzz below. 
Fantastic Beasts and Where to Find Them had its first wave of press screenings this weekend. The review embargo doesn't lift til next week, but in the meantime here are a few social media reactions.
This no-maj just got out of a little Saturday night screening of something pretty fantastic #FantasticBeasts pic.twitter.com/7woVaD0tJT

— Erik Davis (@ErikDavis) November 6, 2016
#fantasticbeasts is crazy fun! 😃

— Kristy Puchko (@KristyPuchko) November 5, 2016
Fantastic Beasts is wonderful. I loved all the new characters and esp. The creatures! Lots of potential for a new franchise! (Heart emoji)

— Edward Douglas (@EDouglasWW) November 7, 2016
My favorite part of #FantasticBeasts were the fantastic beasts. Plus revisiting the world of Harry Potter is p dang cool.

— molly freeman (@mollyrockit) November 7, 2016
Yours truly also caught the film, though my reaction is admittedly not all that useful unless you're really invested in cinematic coats. Sorry, everyone.
I'm so glad #FantasticBeasts takes place in winter because everyone in this movie has fabulous outerwear

— Angie J. Han (@ajhan) November 7, 2016
As usual with early buzz, it's worth keeping in mind that this is just a small sample of reactions from people whose tastes you may or may not agree with. Moreover, studios are often quite strict with talk about their movies this far out, which means those who talk about this movie online are surely choosing their words carefully and avoiding giving away too much of anything.
All that said, it sounds like Fantastic Beasts is off to a promising start among critics, and, thankfully, that Warner Bros.' plan to put out five of these movies was not too presumptuous. (I still think they should have waited to make that announcement, so audiences could get excited about the franchise first, but as long as people like Fantastic Beasts it's no harm done.) Expect to see many more in-depth reactions next week, and then go check out the movie for yourself on November 18.
Fantastic Beasts and Where to Find Them is an all-new adventure returning us to the wizarding world created by J.K. Rowling. Oscar winner Eddie Redmayne (The Theory of Everything) stars in the central role of wizarding world Magizoologist Newt Scamander, under the direction of David Yates.
Fantastic Beasts and Where to Find Them opens in 1926 as Newt Scamander has just completed a global excursion to find and document an extraordinary array of magical creatures. Arriving in New York for a brief stopover, he might have come and gone without incident...were it not for a No-Maj (American for Muggle) named Jacob, a misplaced magical case, and the escape of some of Newt's fantastic beasts, which could spell trouble for both the wizarding and No-Maj worlds.