'Homeland' Season 6 Teaser Trailer: Carrie Hits New York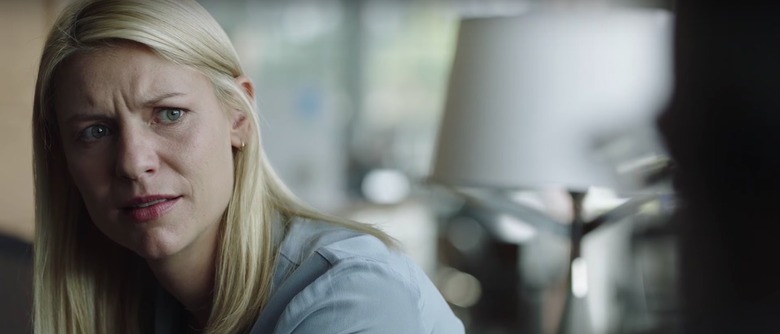 Put the words "Carrie," "New York City," and "premium cable" side by side, and you'll probably assume I'm about to go into a discussion of Sex and the City. But no, it's a different Carrie on a different show on a different network. Showtime has released a new Homeland season 6 teaser trailer, which sends Carrie Mathison (Claire Danes) to Brooklyn where she's working for a foundation that helps American Muslims. But of course she gets caught up in espionage and intrigue again. Watch the Homeland season 6 teaser trailer below.
Homeland Season 6 Teaser Trailer
Set to Tamer's moody cover of Phil Collins' "In the Air Tonight" (yes, this annoying trend has infected TV trailers too), the Homeland season 6 teaser trailer brings Carrie back home to the U.S., and more specifically to Brooklyn, NY. But Carrie's Carrie, no matter where you find her: sharp, competent, and prone to getting into dangerous and unstable situations. We also see glimpses of Saul (Mandy Patinkin), Dar Adal (F. Murray Abraham), Peter Quinn (Rupert Friend), and new character Elizabeth Keane, the president-elect played by Elizabeth Marvel.
The new season was shot and set in New York, and follows another domestic storyline after multiple seasons of globe-trotting. "We are in awe of how [showrunner] Alex Gansa and his writing staff reinvent Homeland each year," Showtime's Gary Levine said at the TCAs in January. "And I think it's exciting to see what they're going to do in bringing it back to the United States and reinvent it yet again."
While the next season won't directly parallel our current election cycle, they do center on a threat against the incoming president. And what do you know, it's set to debut just a few days before our actual presidential inauguration. That seems either really clever or kind of tasteless. Maybe it's both. Homeland season 6 premieres Sunday, January 15 at 9 PM ET / PT on Showtime.
After she thwarted a terrorist attack in Berlin, Season 6 picks up several months later and finds Carrie Mathison (Claire Danes) back on American soil, living in Brooklyn, New York. She has begun working at a foundation whose efforts are to provide aid to Muslims living in the U.S. Season six will tackle the after effects of the U.S. presidential election, with the entire season taking place between election day and the inauguration. It's a strange, transitional time in the halls of government filled with anxiety and different competing interests, where a very fragile and complex transfer of power takes place between the outgoing president and the incoming president-elect (played by House of Cards' Elizabeth Marvel).