Stranger Things Bits: Season 2 Cast Photo Reveals Who's Back, Plus Demogorgon Pie, A Harry Potter Mashup, A Real-Life Barb & More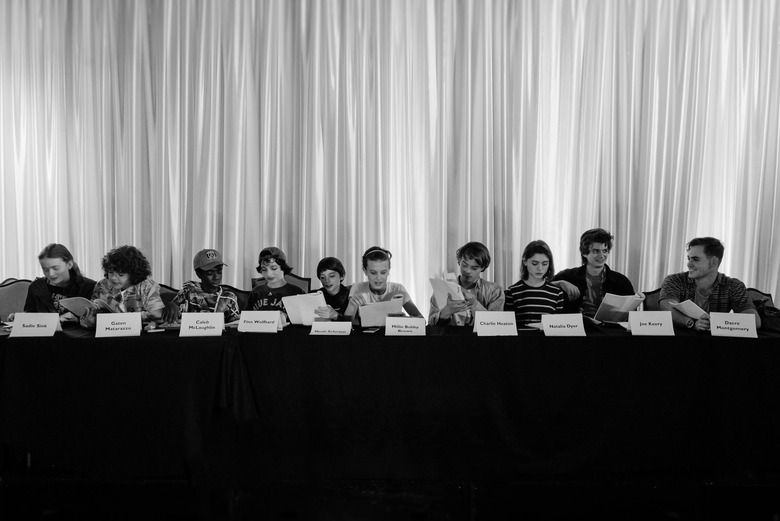 Stranger Things season two is now in production! And to celebrate, we're back with another edition of Stranger Things Bits. After the jump:
Meet another "lost" Stranger Things character in a parody video.
Here's how to make Demogorgon pie and French Onion Barb.
Check out some truly impressive Demogorgon cosplay.
What happens when you mash up Stranger Things and Harry Potter?
See how Stranger Things gets from concept art to screen.
... And more!
sƃuıɥʇɹǝƃuɐɹʇs#
ɹɐǝʎ ʇxǝu noʎ ǝǝs
uoıʇɔnpoɹd uı ʞɔɐq pic.twitter.com/jYd1tDsPRi

— Stranger Things (@Stranger_Things) November 4, 2016
First things first: Stranger Things is officially back in production for season two, as evidenced by this table read photo. It confirms Millie Bobby Brown (Eleven), Noah Schnapp (Will), Finn Wolfhard (Mike), Caleb McLaughlin (Lucas), Gaten Matarazzo (Dustin), Natalia Dyer (Nancy), Charlie Heaton (Jonathan), and Joe Keery (Steve) are will all be in the next run of episodes, along with new cast members Sadie Sink (Max) and Dacre Montgomery (Billy).
Not pictured here, but also expected to return, are David Harbour (Hopper) and Winona Ryder (Joyce). Alas, there is no sign of Steve's son, Jean-Ralphio Saperstein. Maybe they're saving him for season three?
We all thought that was Barb's cold lifeless corpse in the Upside Down at the end of season one, but what if we were wrong? One Redditor (via Vulture) has unearthed a photograph that suggests Barb may have escaped the Upside Down, arrived in our world, and quietly gone on to have a successful career as a nurse. If that doesn't sound like justice, what does?
In fact, it's possible all those reports about the terribleness of the Upside Down were somewhat exaggerated. In a video interview, Barb's friend "Stephanie from the Upside Down" sets the record straight. According to her, the Upside Down is "exactly the same" as Hawkins only dusty, the Demogorgon is a dorky dude who goes by "Barry," and those slugs make for great party drugs. (Though none of that seems to come as much comfort to the interviewer, as seen in this follow-up video.)
While we're on the subject of Barb and the Demogorgon, Netflix has paid tribute to both characters with special themed dishes. Above you can see how to make Demogorgon pie (a berry-pumpkin mix) and here you can follow along as the chef makes French Onion Barb. For those in the mood to binge-eat while they binge-watch, these treats should hit the spot. For more detailed recipes, click through to the YouTube descriptions of both videos.
#strangerthings #irvingtonhalloweenfestival #indy #costume #demogorgon #irvhalloween
A video posted by CBLimagery (@cblimagery) on
Stranger Things was a big theme this Halloween, no surprise there, but this might be the single best Stranger Things costume of them all. This guy really goes the distance, as a Demogorgon whose head actually opens up. It might be kind of terrifying, if his body language didn't read as "filled with geek joy." You might expect this to be an extravagant project, but the guy claims he did it on the cheap, writing, "My biggest expense was three cans of spray foam insulation and two rolls of gorilla tape."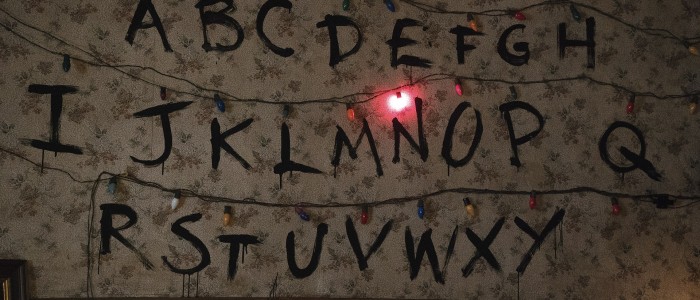 While we're on this DIY kick, Instructables (via Mashable) has step-by-step instructions on creating your own Stranger Things Christmas light wall. You'll need some LED lights, an Arduino Uno Microcontroller, and a few other items, collectively totalling less than $100. You'll do some basic wiring and some simple programming, and voila, you'll be able to get those twinkling lights to spell out whatever weird messages you want.
The Stranger Things mashups keep on coming. Potter Things puts Eleven and company among another group of young people with strange powers, the students of Hogwarts School of Witchcraft and Wizardry. The combination of Harry Potter and Stranger Things works surprisingly well, and opens the door to all sorts of fanfiction and fan art possibilities. Imagine Will and Eleven attending the Yule Ball, or Hermione dropping by the Wheeler home to play D&D...
Meanwhile, Superpowers mashes up Stranger Things with... itself. It turns snippets of dialogue into music, resulting in a synth-y tune that's surprisingly catchy. Not to mention sweet, since it mostly focuses on the tight-knit friendships between the show's younger characters. (Hat tip to Geek Tyrant for this find!)
And now let's move on to the more analytical side of fandom. Part of what made Stranger Things so successful was its memorable imagery — the creepy emptiness of the Upside Down, those disgusting slugs and that nighmarish Demogorgon. In this video, The Film Theorists explore the themes, limitations, and artistic inspirations that gave rise to Aaron Sims' concept art (which we've showcased here before), which in turn evolved into the spooky visuals we pored over all summer.
Meanwhile, this video looks at another visual tool Stranger Things has at its disposal: unusual cuts. Whether they're guiding Elle in and out of her traumatic past, adding a sense of uneasy menace, or setting up a visual gag, Stranger Things loves to get creative with its edits.
Put all that together and what do you have? This video essay (h/t Laughing Squid) explains Stranger Things season one in careful detail, picking up clues and asking questions that may never even have occurred to you. There's nothing here that'll totally upend your understanding of the show or anything like that, but it's a good analysis of how the whole season comes together. Watch it now, or save it for just before season two premieres, when you find yourself needing to brush up on the show's history before you move into its next run.