'Jumanji', 'The Dark Tower', 'The Equalizer 2', 'Flatliners', And Edgar Wright's 'Baby Driver' All Delayed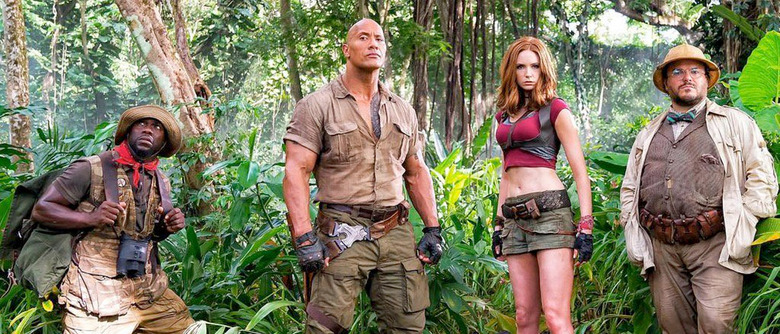 Sony is reorganizing its release calendar, and that means a few big titles are getting shifted around. First off, The Dark Tower has been postponed from February 2017 to summer 2017, as we reported earlier today... and it's taking over Jumanji's slot, which means Jumanji is now getting pushed to Christmas 2017.
Meanwhile, Edgar Wright's Baby Driver has gone from being a spring movie to being a summer movie, and The Equalizer 2 — the first sequel of Denzel Washington's entire career — is getting delayed one year to fall 2018. Get full details on the Jumanji release date and more below. 
Earlier today we learned Nikolaj Arcel's Stephen King adaptation The Dark Tower would not make its previously planned February 17, 2017 release date, and now Sony has announced it'll arrive July 28, 2017 instead. The Dark Tower will open against an as-yet-untitled live-action fairy tale from Disney, as well the second weekend of another big sci-fi adventure, Luc Besson's Valerian and the City of a Thousand Planets.
July 28, 2017 is the slot formerly occupied by Jumanji, which will now arrive December 22, 2017. That's bound to be a crowded weekend, but potentially a lucrative one as families look for lighthearted entertainment to enjoy together. The other big movies bowing that day include Pitch Perfect 3, but the really stiff competition will come from Star Wars: Episode VIII, which premieres the week before (December 15).
Also moving around Sony's 2017 datebook is the Flatliners reboot, which is going from August 18, 2017 to September 29, 2017, where it will go up against Doug Liman's American Made. And The Equalizer sequel, which was originally going to debut on September 29, 2017, has shuffled all the way back to September 14, 2018, where it currently has the weekend all to itself.
Lastly (for now), Baby Driver is driving all the way from spring to summer. Previously scheduled for March 17, 2017, it'll now pull up into theaters on August 11, 2017. The new date pits Baby Driver against David Leitch's The Coldest City, the CHiPS remake, and Emojimovie: Express Yourself. Update your 2017 plans accordingly.