'The Defenders' Adds 'Iron Fist' Character Colleen Wing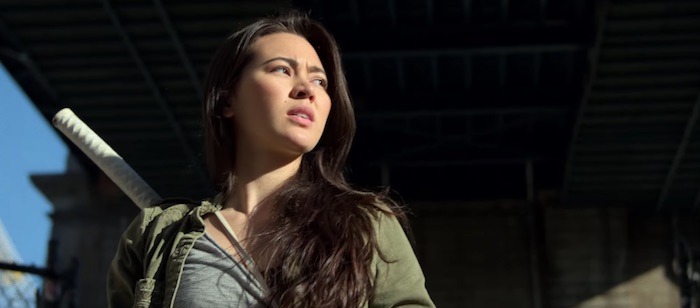 Daredevil has Foggy, Karen, and Stick. Jessica Jones has got Hogarth, Trish, and Malcolm. Luke Cage has Misty Knight. All of them have Claire Temple. And today, The Defenders would like you to know that even though he's the new guy, Iron Fist will have some friends to bring to the party, too. Marvel and Netflix have just confirmed the first Iron Fist character slated to return for the crossover series: Colleen Wing, played by Jessica Henwick.
The Defenders has just started shooting in New York City, and all week they've been making announcements about which cast members will return.
For @MarvelIronFist's @Jhenwick, this fight is just beginning. #Defenders pic.twitter.com/QpwzFsvdvf

— The Defenders (@TheDefenders) November 3, 2016
At this point, we don't even know much about Danny Rand a.k.a. Iron Fist, let alone the friends and foes that surround him. Still, it's great to hear Colleen Wing will return after Iron Fist, if only because it keeps hope alive of a Daughters of the Dragon team-up down the line. I'm sure comics fans will freak out when we first get to see Colleen Wing side by side with her BFF from the comics, Misty Knight. Colleen's introduction was briefly teased in Luke Cage, with Claire Temple taking note of an ad for her dojo.
The Defenders stars Charlie Cox (Daredevil), Krysten Ritter (Jessica Jones), Mike Colter (Luke Cage), Finn Jones (Iron Fist), Deborah Ann Woll (Karen Page), Simone Missick (Misty Knight), Elden Henson (Foggy Nelson), Carrie-Anne Moss (Jeri Hogarth), Eka Darville (Malcolm Ducasse), Rachael Taylor (Trish Walker), Scott Glenn (Stick), and Rosario Dawson (Claire Temple), plus Sigourney Weaver in an unidentified villain role.
If I had to guess, I'd bet Marvel and Netflix will wrap up their big week of Defenders casting announcements by officially confirming Jon Bernthal's return as the Punisher tomorrow, but we'll have to wait and see. At any rate, we can expect to see this giant team-up hit Netflix sometime in 2017, along with Iron Fist and The Punisher.