'T2 Trainspotting' Trailer: Danny Boyle Rounds Up The Gang For Another Drug-Fueled Adventure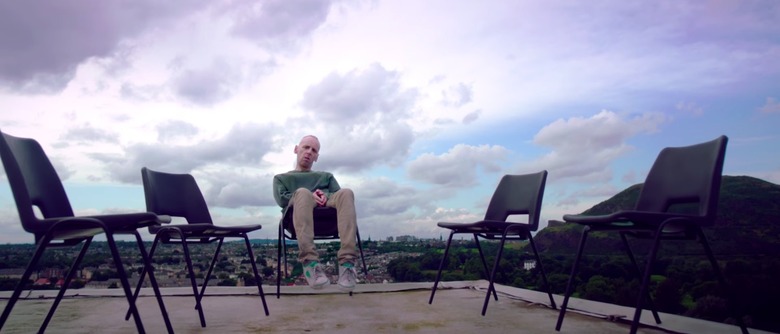 Twenty years after Trainspotting, the gang's reuniting for T2: Trainspotting. Specifically, Renton (Ewan McGregor), Spud (Ewen Bremner), Sick Boy (Jonny Lee Miller), and Begbie (Robert Carlyle), all rounded up by director Danny Boyle for another drug-fueled adventure. Watch the first full-length T2 Trainspotting trailer below.
T2 Trainspotting Trailer
It'll be tough for Boyle to top his own work, but the T2: Trainspotting trailer looks, at least, like a promising start. It's a thrill to see the guys all together again after so many years, and the new promo has the same kinetic energy and dreamy surrealism of the first film. Even the famous "choose life" monologue is back, albeit with a makeover that puts it more in line with the current year ("choose Twitter, Facebook, Instagram...") and also with the characters' more advanced ages. Renton reaches something like an epiphany at the end, concluding, "You're an addict. So be addicted. Just be addicted to something else."
The T2: Trainspotting trailer is vague on plot details, but it seems all you really need to know is that Renton has returned home, only to find himself getting back up to the same old trouble with his same old friends. Although John Hodge's script takes some cues from Porno – Irvine Welsh's sequel to the book that inspired the first Trainspotting — it mostly sounds like its own thing. And if you ask Carlyle, it's amazing. "It's one of the best scripts I've fucking read. I mean, ever," he gushed last year. We already know Boyle and company have had a few stops and starts on this project over the years, so here's hoping it'll turn out to be worth the wait.
T2: Trainspotting opens January 27, 2017 in the U.K. & Ireland and February 3, 2017 in the U.S.
First there was an opportunity......then there was a betrayal.
Twenty years have gone by.
Much has changed but just as much remains the same.
Mark Renton (Ewan McGregor) returns to the only place he can ever call home.
They are waiting for him: Spud (Ewen Bremner), Sick Boy (Jonny Lee Miller), and Begbie (Robert Carlyle).
Other old friends are waiting too: sorrow, loss, joy, vengeance, hatred, friendship, love, longing, fear, regret, diamorphine, self-destruction and mortal danger, they are all lined up to welcome him, ready to join the dance.