'Ant-Man' Co-Star Michael Peña Joins Ava DuVernay's 'A Wrinkle In Time'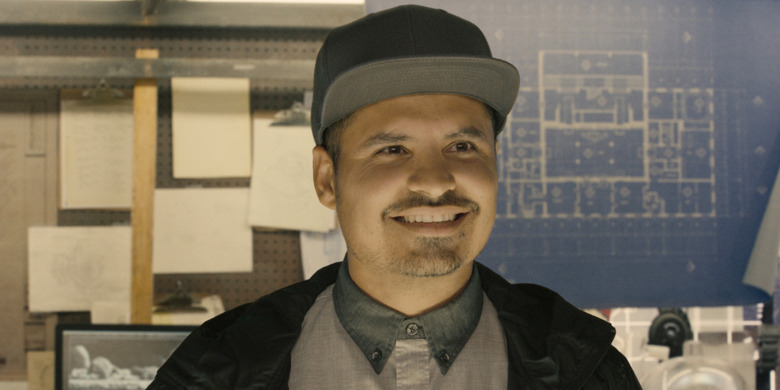 Ant-Man costar Michael Peña has officially joined the cast of Ava DuVernay's adaptation of A Wrinkle in Time. Hit the jump to learn more information about the Michael Pena A Wrinkle In Time Casting.
In A Wrinkle in Time, Meg, a 13-year-old whiz kid outcast, searches the universe with Charles and Calvin for her father (Chris Pine), a government scientist gone missing after developing a mystery project called a tesseract, known as a wrinkle in time. During the kids' adventure, they receive help from three fantastical beings, Mrs. Which (Oprah Winfrey), Mrs. Whatsit (Reese Witherspoon), and Mrs. Who (Mindy Kaling).
Michael Peña will be taking on the role of Red in the film adaptation. In the book, The Man with Red Eyes is a being whom Meg, Charles Wallace, and Calvin encounter on their quest to rescue Meg and Charles Wallace's father on the planet Camazotz.
"He is the Prime Coordinator on that planet. Although he appears human, he explains that IT actually talks through him, like a robot or demented puppet; that he is a part of IT. He entices Charles Wallace to look into his glowing red eyes in order to find his father. When Charles Wallace does so, he too becomes possessed by the mind of IT, after which the Man with Red Eyes drops out of the story. Then, the man with red eyes tries to capture Meg, Calvin, and Charles Wallace. IT talks through him."
Pena is the last major role to be cast in the film, completing the ensemble for the upcoming live-action adventure. Principal photography on the film began today in Los Angeles.
More exciting #WrinkleinTime news! Michael Peña has officially joined the all-star cast in the role of Red. pic.twitter.com/r9adI3Wn3B

— A Wrinkle In Time (@WrinkleInTime) November 3, 2016
Peña joins previously announced cast members Oprah Winfrey, Reese Witherspoon, Mindy Kaling, Storm Reid, Levi Miller, Deric McCabe, Chris Pine, Gugu Mbatha-Raw, Zach Galifianakis, André Holland, Bellamy Young, Rowan Blanchard and Will McCormack. Thats an impressive cast indeed.
Here's the plot summary of Madeleine L'Engle's novel, which is part one of the five-part Time Quintet series:
It was a dark and stormy night; Meg Murry, her small brother Charles Wallace, and her mother had come down to the kitchen for a midnight snack when they were upset by the arrival of a most disturbing stranger. "Wild nights are my glory," the unearthly stranger told them. "I just got caught in a downdraft and blown off course. Let me sit down for a moment, and then I'll be on my way. Speaking of ways, by the way, there is such a thing as a tesseract." A tesseract (in case the reader doesn't know) is a wrinkle in time. To tell more would rob the reader of the enjoyment of Miss L'Engle's unusual book. A Wrinkle in Time, winner of the Newbery Medal in 1963, is the story of the adventures in space and time of Meg, Charles Wallace, and Calvin O'Keefe (athlete, student, and one of the most popular boys in high school). They are in search of Meg's father, a scientist who disappeared while engaged in secret work for the government on the tesseract problem.
A Wrinkle in Time is directed by Ava DuVernay and produced by Jim Whitaker and Catherine Hand. Jennifer Lee wrote the screenplay, which is based on the Newbery Medal-winning novel by Madeleine L'Engle. A Wrinkle in Time is currently filming and will hit theaters sometime in 2018.