'The Black Hole' Remake Might Be Too Dark For The Colorful World Of Disney (Right Now)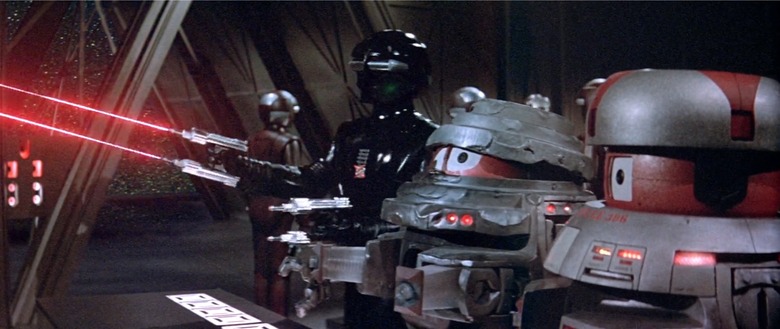 Seven years ago the team behind TRON: Legacy, director Joseph Kosinski and producer Sean Bailey, started working on a remake of The Black Hole. The screenwriter behind Passengers, Jon Spaihts, was later hired for a rewrite on the sci-fi project. It's been a while since we've heard any news about Disney's reimagining of Gary Nelson's 1979 film, but Spaihts recently informed us of the project's current status.
Below, get the latest update on Black Hole remake.
The Black Hole is about the crew of a space exploration vessel coming into contact with crazed scientist Dr. Hans Reinhardt, who's the sole human aboard a ship he plans on flying right into a black hole. Robots are the crew of Reinhardt's ship, but the USS Palomino's team (led by Robert Forster) discover a dark secret about these bots and Reinhardt's past.
When we interviewed Spaihts for Marvel's Doctor Strange, which he co-wrote, the screenwriter told us The Black Hole is maybe too dark for the colorful world of Disney right now:
Black Hole was an amazing experience. That was one of those movies I was stuck on until I cracked the beginning, and suddenly it just started to flow. I loved that script. It sits uneasily in Disney's world as a dark epic, and Disney is in a very colorful place. They already have multiple big space epics going, so I don't know how or whether it'll find its way to light of day, but I sure wrote a heck of a movie and was thrilled to do it. It was very faithful to the original but clever in all the ways in that first film was silly, I hope.
The Black Hole has a decent amount of silliness, but the production design, John Barry's epic score, the ending, V.I.N.CENT. (Roddy McDowall) and B.O.B. (Slim Pickens), and one death scene, in particular, remain delightful. For the most part, The Black Hole holds up. But it's a story that could easily get reworked into a remake with a distinctly different vision, such as a "dark epic" — which isn't how most people would describe the original Disney film, although it does have some dark ideas. When Spaihts first signed on for the rewrite, the new take on The Black Hole was described as "philosophical and somewhat dark in tone" by The Hollywood Reporter. Maybe this vision of The Black Hole is too dark for Disney at the moment, but we'll see if that changes in the years to come.
You can watch the original trailer for The Black Hole below:
And here is director Edgar Wright talking about the movie, one of his childhood favorite films, in the Trailers of Hell episode below: