Hot Butterbeer Coming To Hollywood's The Wizarding World Of Harry Potter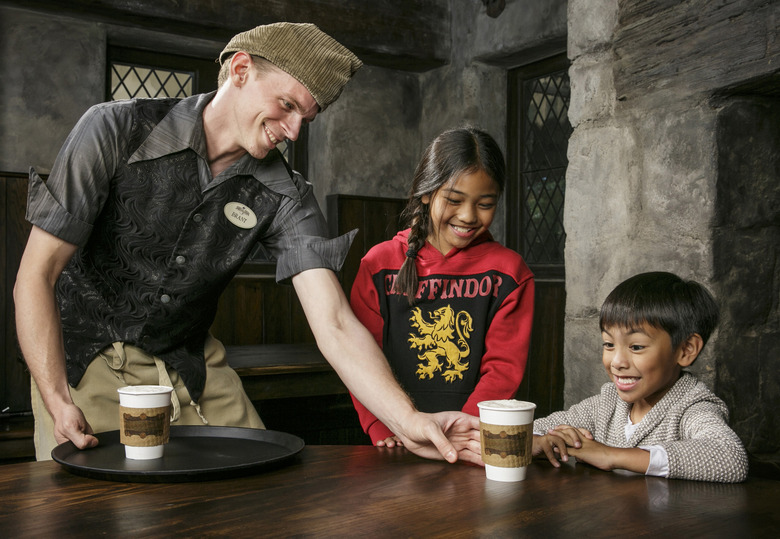 If you've ever been to The Wizarding World of Harry Potter, then you know that frozen Butter Beer is one of the best drinks of all time. Guests visiting Universal Studios Hollywood will now get the option of a hot version of the beverage to the seasonal menu at the Three Broomsticks. Hit the jump to learn more.
Hot Butterbeer was introduced a couple years back at Universal Studios Florida resort but I've still yet to try it. Park visitors who have, say it still has that butterscotch and shortbread flavor "but also creamy and caramel-rich, with a definite coffee-free latte vibe." Here is a video review from Orlando:
Sounds like an interesting alternative to coffee or hot chocolate. I've always found the frozen Butter Beer to be lightyears better than the traditional version, so I'm skeptical about a hot version of the drink especially as I'm more of a Frappuccino guy than a hot coffee guy.
I do wish that Universal would begin doing more seasonal offerings in their domestic Wizarding Worlds. Japan's version gets all decorated for Halloween and Christmas, but Florida and Hollywood remain virtually unchanged. We don't even get to venture into the land during Halloween Horror Nights, where a Dementor scare zone would be a perfect fit. But I guess that seasonal drinks and food is a start, right?
Read the full press release below:
"The Wizarding World of Harry Potter" at Universal Studios Hollywood Adds Hot Butterbeer to its Menu of Scrumptious Fare Served at Three Broomsticks and Hog's Head Pub
Universal City, CA, November 2, 2016 – Delightful, delicious and hot. Three wonderful words that describe hot Butterbeer™, the newest addition that will be offered seasonally at Three Broomsticks™ at "The Wizarding World of Harry Potter™" at Universal Studios Hollywood™.
Like its traditional and frozen counterparts, hot Butterbeer is reminiscent of butterscotch and shortbread that's been perfectly fine-tuned as a Hogsmeade treat.
Three Broomsticks, an aged rustic tavern, caters to guests with an array of authentic British breakfast, lunchtime and dinner fare while they are seated at custom-made wooden tables, chairs and benches in a warm and inviting atmosphere inspired by the Harry Potter books and films.
The eclectic menu offers such tasty staples as Bangers & Mash (savory grilled English sausages with creamy mashed potatoes and minted peas), Shepherd's Pie (ground beef and vegetables, crowned with a crust of mashed potatoes), Beef Sunday Roast (prime rib of beef with Yorkshire pudding, roast potatoes and gravy), Beef, Lamb & Guinness Stew, and Fish & Chips. In addition to Butterbeer Potted Cream, Sticky Toffee Pudding rounds out the hearty British fare.
Scrumptious traditional English breakfast items invite guests to start their day at "The Wizarding World of Harry Potter," including the Eggy Bread breakfast (freshly baked baguette dipped in a cinnamon egg batter and lightly sautéed, sprinkled with powder sugar and served with bacon, strawberries and real maple syrup.), as well as traditional English breakfast (fresh scrambled eggs, sausage links, bacon, baked beans, baked tomato, and potatoes) and traditional American breakfast (fresh scrambled eggs, potatoes, bacon and link sausage with butter croissant).
Gathering inspiration from historic British taverns, the adjoining Hog's Head pub features original draught beers and spirits created exclusively for the land, including Hog's Head Brew, Dragon's Scale, Wizard's Brew and Fire Whiskey. Also available are Pumpkin Fizz and Gilly Water and the three Butterbeer choices: traditional, frozen and hot.