Of Course Claire Temple Will Return For 'The Defenders'; Trish Walker & Stick Also Confirmed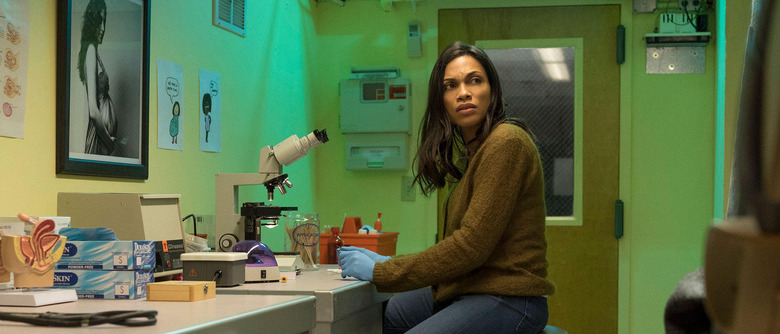 All the individual Defenders like to talk a big game about working alone, but in truth each of them is surrounded by friends and allies and mentors. Over the past couple of days we've seen several of those pals added to the supporting lineup of The Defenders, and today we've got three more to add to the list.
Marvel and Netflix have officially announced that Jessica Jones' Trish Walker (Rachael Taylor) and Daredevil's Stick (Scott Glenn) will return for The Defenders — along with the one character who unites all four standalone superheroes, Claire Temple (Rosario Dawson). 
Old friendships die hard. @_Rachael_Taylor, #ScottGlenn, and @rosariodawson return for The #Defenders pic.twitter.com/KiZWwXikJ6

— The Defenders (@TheDefenders) November 2, 2016
For those keeping count, this brings the total number of confirmed The Defenders actors up to 13. Daredevil (Charlie Cox), Jessica Jones (Krysten Ritter), Luke Cage (Mike Colter), and Iron Fist (Finn Jones) make up the core team. The supporting players announced so far are Daredevil's Karen Page (Deborah Ann Woll) and Foggy Nelson (Elden Henson), Jessica Jones' Jeri Hogarth (Carrie-Anne Moss) and Malcolm Ducasse (Eka Darville), and Luke Cage's Misty Knight (Simone Missick).
The Defenders are going to need all the help they can get because Sigourney Weaver plays the villain. The character's identity hasn't yet been revealed, but c'mon — it's Sigourney Weaver. You know she's going to be a formidable foe worthy of uniting every superhero this grimy little corner of the MCU can muster.
It's unclear whether Marvel and Netflix are done with the Defenders casting announcements for now, or whether we'll wake up tomorrow to still more news. I'd guess the Punisher (Jon Bernthal) will be involved somehow, though it's possible they'll want to wait to reveal that news until after his solo series premieres. Similarly, I wonder if they'll hold off on confirming any of the Iron Fist characters (like Jessica Henwick's Colleen Wing), lest they rob the show of its suspense.
The Defenders is shooting now in New York. The series will hit Netflix sometime in 2017, along with The Punisher and Iron Fist.