'Fantastic Beasts' Sequel Finds Johnny Depp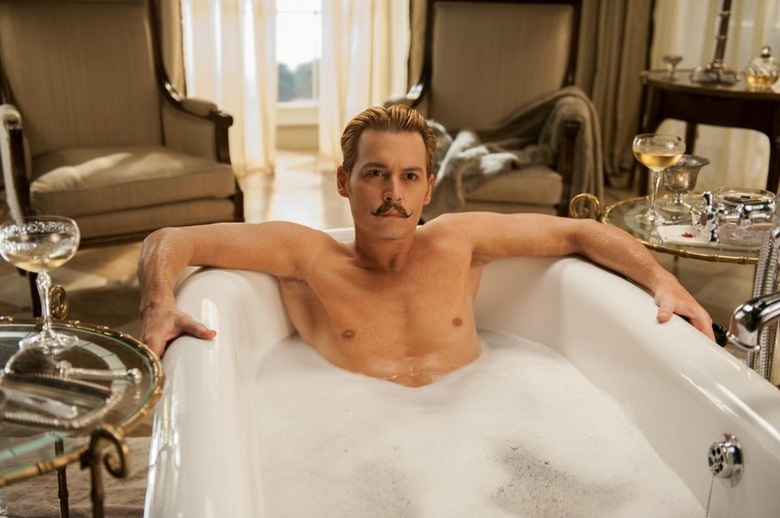 Fantastic Beasts and Where to Find Them hasn't even hit theaters yet, but the sequel is already casting up. Johnny Depp is set to co-star in the next installment of the Harry Potter spinoff series, which David Yates will return to direct for release in 2018. In fact, he may even have a cameo role in the first Fantastic Beasts, which opens later this month. 
Deadline reports Depp will co-star in the next Fantastic Beasts, but has not yet been able to confirm which character he is playing. However, they mention that he might have a "tiny turn" in the first Fantastic Beasts, which has a lot of fans wondering if he might be playing Gellert Grindelwald. That's just speculation for now, though, so take it with a big heaping pile of salt. Grindelwald, as Fantastic Beasts star Ezra Miller just recently explained, is a dark wizard who was once a friend of Dumbledore's.
Depp is coming off of a rough summer. Alice Through the Looking Glass flopped, Yoga Hosers sank without making barely any impression, and Depp was all over the headlines thanks to his very contentious divorce. But his next couple of years are looking up. He's got another Pirates of the Caribbean sequel out next summer, and he was recently cast in Kenneth Branagh's Murder on the Orient Express. He's also got The Invisible Man coming out in the near future.
It kind of makes sense that Depp would want in on Fantastic Beasts, given that he's had great success with fantastical family-friendly fare like Alice in Wonderland and Pirates, but frankly I find the choice disappointing. A lot of Depp's recent work has gone past schticky and into just-plain-bad territory — he keeps piling on the makeup, wigs, and thick accents but struggles to actually disappear into a role. Given that we're stuck with him for at least a couple Fantastic Beasts movies, though, we can just cross our fingers and hope this'll be a return to form.
Fantastic Beasts and Where to Find Them hits November 18. Fantastic Beasts and Where to Find Them 2, or whatever it ends up being called, is scheduled for release on November 16, 2018. And here's hoping you really, really like those two, because Warner Bros. already has a total of five Fantastic Beasts movies planned.