Marvel's 'The Defenders' Starts Shooting; Foggy, Hogarth, And Malcolm Confirmed To Return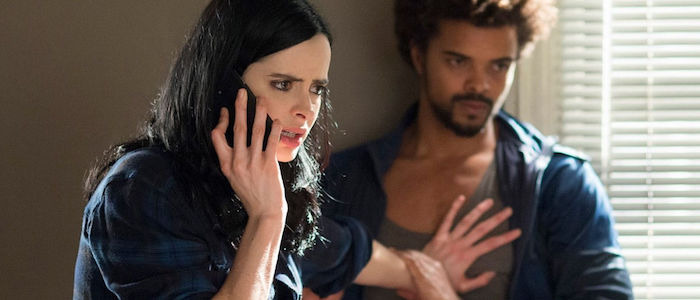 Shooting on The Defenders is finally underway in New York, as evidenced by the first set photos hitting the web. And to celebrate that fact, Netflix's Marvel crossover series is adding a few more names to its roster.
Yesterday we got official confirmation that Daredevil's Karen Page (Deborah Ann Woll) and Luke Cage's Misty Knight (Simone Missick) would be returning for the crossover series; today brings the news that Daredevil's Foggy Nelson (Elden Henson) and Jessica Jones' Jeri Hogarth (Carrie-Anne Moss) and Malcolm Ducasse (Eka Darville) will be back as well. 
Marvel officially announced the latest The Defenders casting on Twitter.
Assemble your allies: #EldenHenson, @AnnapurnaLiving and @ekadarville are back for The #Defenders. pic.twitter.com/mqDHtP5CZL

— The Defenders (@TheDefenders) November 1, 2016
None of these names should come as a huge surprise. Henson and Darville have previously said they'd be reprising their roles for The Defenders. And Moss' Hogarth seems like an obvious choice to bring back, given her ties to both Jessica Jones and Iron Fist. These three bring the number of officially confirmed stars for The Defenders up to ten. In addition to all the actors listed above, The Defenders will feature Sigourney Weaver as the villain, plus of course Daredevil (Charlie Cox), Jessica Jones (Krysten Ritter), Luke Cage (Mike Colter), and Iron Fist (Finn Jones).
Others believed, but not yet confirmed, to return for The Defenders include Trish Walker (Rachael Taylor) and the Punisher (Jon Bernthal).
Netflix and Marvel are sure to announce still more cast members in the coming days, but while we wait the internet has served up some intriguing new set photos for us to enjoy. We can't share them here, but you can click over to Coming Soon to see several behind-the-scenes images of an exciting encounter between Jessica Jones and Misty Knight. If you're trying to avoid spoilers, proceed at your own risk.
The Defenders is expected to hit Netflix sometime in 2017, along with Iron Fist and The Punisher.