'American Horror Story' Announces 'Murder House' / 'Coven' Crossover Season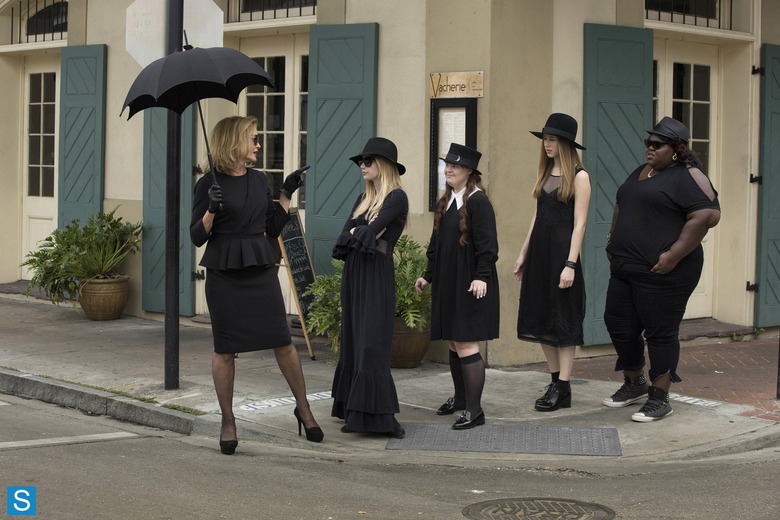 The six seasons of American Horror Story have been linked together in little ways, but an upcoming season promises to make the connection between two of the seasons much, much stronger. Executive producer Ryan Murphy has announced an American Horror Story crossover season between Murder House (season one) and Coven (season three). 
Murphy revealed plans for the American Horror Story crossover at EW's PopFest. "We do know what we're going to do," he said when asked about the possibility of revisiting Coven. "It's not going to be next season, but we are going to do a season that's a crossover between Murder House and Coven together, which is very bizarre." To clarify, he added, "There will be characters from Murder House and characters from Coven together."
Murphy has previously said that he already has an idea in place for season seven, but that he has additionally been working on a "secret season" to be revealed further down the line. Could this be it?
FX officially renewed American Horror Story for a seventh season several weeks ago, but has yet to announce an eighth season. That said, American Horror Story remains one of their flagship series and ratings remain solid (if not quite as high as they once were), so there's every reason to believe the series will return again.
As for why the American Horror Story crossover won't come next season, Murphy said it comes down to scheduling. "I've [already] started going to actors from both of the seasons, quietly, saying, 'I think in this window, if you could fit us in,'" he said. "So yeah, it's fun. It's weird." Murphy did not say which actors could return, though it should be interesting to see if he's able to bring back some of the faces we haven't seen in a while, like Connie Britton and Dylan McDermott.
American Horror Story: Murder House revolved around the Harmon family, who move into a suspiciously cheap old mansion in Los Angeles. American Horror Story: Coven followed a group of witches who belong to a coven in New Orleans. Both shows are set in the present day, so the narrative timing shouldn't be too difficult to work out. The bigger complication could be figuring out what to do with actors who've appeared in both seasons as different characters, like Taissa Farmiga, should they decide to return.