'Westworld' Will Probably Get Renewed For Season 2; Fan Theories Are "Getting Close"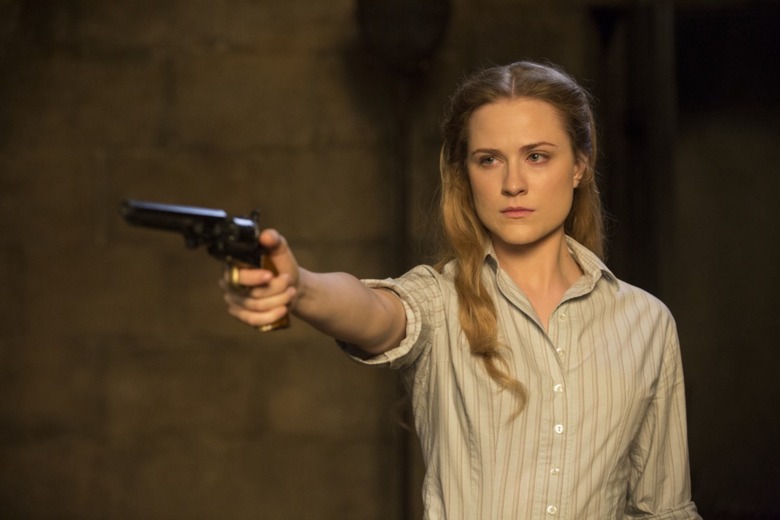 This Sunday marks the halfway point of Westworld season one, which means it won't be long now before fans start wondering whether we'll get more of the show next year. Officially, the answer is that we don't know. HBO has only ordered one ten-episode season so far, so in theory, the season one finale could be the very end of the series. Unofficially, though, it seems pretty clear that this show is on track for a renewal.
In fact, even HBO's Casey Bloys is willing to say on the record that the odds of a Westworld season 2 are "looking really good." He also addresses the question of just how close to truth all those Westworld fan theories are.
Variety sat down with Bloys, HBO's president of programming, to discuss the future of the network. Generally speaking, it is not unusual for a network to wait until after an entire season of a series has aired to decide whether they want to renew or cancel. But HBO often serves up renewals very quickly. Vinyl, for example, got re-upped for season two just days after its season one premiere (only to get cancelled a few months later, but still). Westworld already looks like a hit, so what is HBO waiting for?
Bloys explained:
I want to get a very complete picture of the ratings, which seem to be doing very well, so we're happy with that. [The executive producers are] going to talk to us about what they envision a second season being. But right now I would say it's looking really good. We're very pleased with how it's doing.
It's not exactly confirmation that Westworld will be back for season 2, but it's pretty damn close. Bloys wouldn't be out there making comments like "it's looking really good" if HBO were still struggling to make a decision.
Westworld's ratings have been solid, but maybe even more promising is the amount of buzz this show is getting. You can barely log onto the internet these days without tripping over yet another fan theory or thinkpiece (and yes, we know we're part of the problem). After some well-documented struggles trying to launch new dramas, HBO seems to have an unqualified success on their hands with Westworld.
In short, you can feel free to continue speculating about what's really going on in Westworld, and have faith that your questions will be answered eventually. Although Bloys is understandably reluctant to say just how accurate some of those theories are, he hinted that some viewers might be getting pretty warm. "There are a lot of theories out there, and with some of them, I've been very impressed with how they've constructed the guesses," he said. "I'll just say, they're getting close." For what it's worth, star Evan Rachel Wood has said that out of over a hundred fan theories she's heard, "only three were right."
But we should get a much better idea of just how close we are in the coming weeks. "I think people will get the answers they're looking for by the end of season 1. A lot of the ones that people are buzzing about," Bloys teased. "I think you will get — I don't know if 'answers' is the right word, but maybe it's 'satisfaction.' You'll see how Ford and the Man in Black play out by the end, story-wise."