Doug Liman Might Direct 'Unearthed,' An Indiana Jones-Esque Space Adventure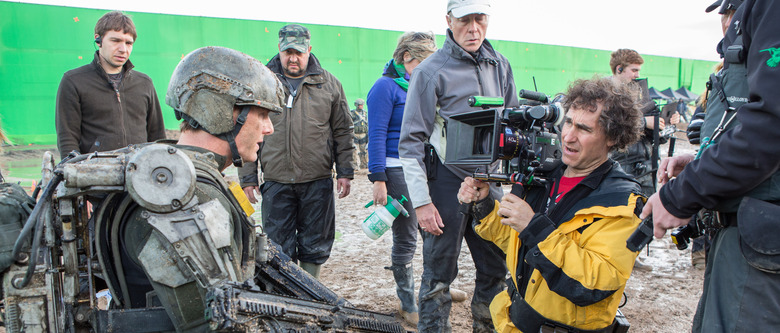 You know what's nice? Despite the fact Edge of Tomorrow underperformed at the box-office, it doesn't seem to have slowed down director Doug Liman at all. Not too long ago Liman wrapped American Made starring Tom Cruise,  but over the past year or so, he's been attaching himself to a variety of projects, including the high-profile Justice League Dark. Another film possibly of interest for Liman is Unearthed, based on a young-adult sci-fi novel coming out in 2017.
Below, learn more about the Unearthed movie adaptation.
Deadline reports Cross Creek Pictures has acquired the rights to Amie Kaufman and Meagan Spooner's two-part series, with part one due out next year. The production company is behind Liman's American Made, and their plan is for him to develop Unearthed to direct. The filmmaker isn't attached yet to the project, described as "Lara Croft Meets Indiana Jones, set in deep space."
Kaufman and Spooner are the bestselling authors behind The Starbound Trilogy – These Broken Stars, This Shattered World, and Their Fractured Light – and their Unearthed novels are about the discovery of a new planet. Here's the brief plot synopsis for Unearthed:
Jules Addison and Amelia Radcliffe join forces in a tomb-raiding race on a newly discovered planet to unravel the secrets of an ancient, long-extinct civilization — only to uncover a revelation that could spell the end of the human race.
Unearthed isn't the first time a company has acquired the rights to one of Kaufman and Spooner's novels. Their Starbound Trilogy is in development, thanks to producer Warren Littlefield (Fargo) and MGM TV. Actor Eric Balfour (Six Feet Under, Skyline) is involved in the adaptation of the series' first book, These Broken Stars, but whether he's starring in the show in addition to producing is unclear. Another book of Kaufman's, Illuminae, which she co-wrote with Jay Kristoff, was picked up last year by Brad Pitt's production company, Plan B.
Cross Creek Pictures' project also isn't the only YA movie Liman's name has recently been tied to. The Go and Swingers filmmaker is attached to the Daisy Ridley-led Chaos Walking, based on author Patrick Ness' trilogy. Over the years that movie has involved Robert Zemeckis and screenwriter Charlie Kaufman. Some other notable films possibly in Liman's future are Luna Park, which would star Tom Cruise, and an Edge of Tomorrow sequel, which Liman claims is going to "revolutionize how people make sequels." None of these projects, including Justice League Dark, currently have a release date.