'Doctor Strange' Upside Down TV Spot: "This Is Just The Beginning"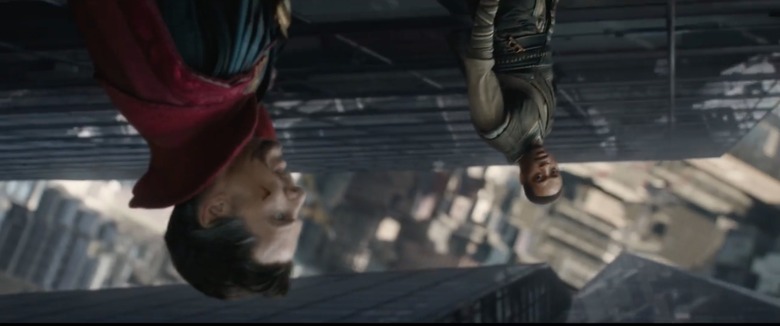 Next week, you'll get to see how Marvel and director Scott Derrickson pulled off Doctor Strange. The character is a very different flavor of the Marvel Cinematic Universe. The origin story shares obvious similarities to their past films, but in tone and execution, Doctor Strange is a slightly different, trippier, and sometimes more dramatic comic book movie. The wild visuals alone help separate Scott Derrickson's film from the herd a little, and a new upside down TV spot uses some of the film's grander, action-heavier shots to sell audiences on Marvel's latest and weirdest.
Below, watch the upside down Doctor Strange upside down TV spot.
This origin story forces Stephen Strange (Benedict Cumberbatch) to open his mind. After the arrogant, selfish but brilliant doctor wrecks his hands in a car accident, he's left scarred and lost. Strange journeys to the other side of the world to seek answers, hoping to find a way to fix his hands. Instead, his mind expands and he becomes a sorcerer. All in all, not a bad trip to Nepal.
Doctor Strange, which Derrickson co-wrote with C. Robert Cargill (Sinister) and Jon Spaihts (Passengers), also stars Rachel McAdams as surgeon Christine Palmer, Chiwetel Ejiofor as Mordo, Tilda Swinton as the Ancient One, Benedict Wong as Wong, Mads Mikkelsen as the villainous Kaecililius, and Michael Stuhlbarg as Nicodemus West.
Doctor Strange Upside Down TV Spot
The marketing materials for Doctor Strange haven't revealed too many shots or scenes better to experience on the big screen first. When Strange and Mordo are standing on the side of the building, watching New York move all around them, there's a lot to that sequence the TV spots and trailers, thankfully, haven't spoiled. And, to Doctor Strange's credit, as engrossing as the action and psychedelic images are, some dynamite close-ups of Tilda Swinton or Mads Mikkelsen are just as exciting. Sometimes the film's most impressive sequences are its simplest ones.
Here's the official synopsis for Doctor Strange:
From Marvel Studios comes "Doctor Strange," the story of world-famous neurosurgeon Dr. Stephen Strange whose life changes forever after a horrific car accident robs him of the use of his hands. When traditional medicine fails him, he is forced to look for healing, and hope, in an unlikely place—a mysterious enclave known as Kamar-Taj. He quickly learns that this is not just a center for healing but also the front line of a battle against unseen dark forces bent on destroying our reality. Before long Strange—armed with newly acquired magical powers—is forced to choose whether to return to his life of fortune and status or leave it all behind to defend the world as the most powerful sorcerer in existence.
Doctor Strange opens in theaters November 4th.