'Dreamland' Trailer: Robert Schwartzman's Coming Of Age Directorial Debut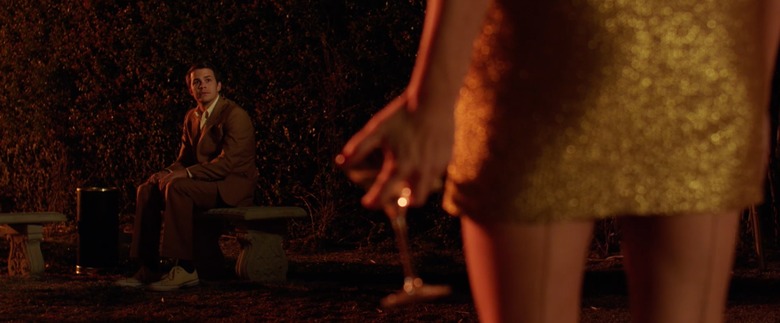 Dreamland is the feature film debut of Robert Schwartzman, lead vocalist of the rock/pop band Rooney, who has appeared in The Virgin Suicides, directed and co-written by his cousin Sofia Coppola, as well as The Princess Diaries, and composer of Gia Coppola's Palo Alto. Dreamland stars Johnny Simmons as part-time pianist Monty Fagan, who begins a May-December romance that upends his home life. The movie co-stars Amy Landecker, Jason Schwartzman (his brother), Frankie Shaw, Noël Wells, Beverly D'Angelo, and Talia Shire (his mother). The film's soundtrack also features several original songs by Schwartzman's band Rooney. Hit the jump to watch the Dreamland trailer.
Dreamland Trailer
Dreamland premiered at the Tribeca Film Festival in April, where Complex called it "beautifully shot" and The Hollywood Reporter called it "an enjoyable coming-of-age tale." There aren't many reviews of the film at this point, but the few that exist seem to point to Schwartzman as a filmmaker to watch.
Here is the official plot synopsis for Dreamland:
Los Angeles musician Monty Fagan is going through a rough patch. He's a grown man who lives with his girlfriend... in her mom's house. He wants to open a piano bar... but suffers from an extreme case of insufficient funds. Things take an interesting turn, however, when Monty gets the chance to fill in as the pianist in a swanky hotel bar, where he meets Olivia, an older, wealthy femme fatale with whom he begins a rather torrid affair. Enlivened by Olivia's presence in his life, Monty gets a newfound self-confidence and sexual prowess. But when Olivia starts to throw some much-needed cash at Monty — dressing him in expensive clothes and offering to fund his dream bar — he begins worry that being a kept man will destroy his ability to make it on his own terms.
The directorial debut of Robert Schwartzman, DREAMLAND is a witty update of an 1980s sex comedy, with a wide-eyed young man finding himself amidst a sea of sex, debauchery, and a perfect synth score composed by Schwartzman himself — also the frontman of the band Rooney, Schwartzman previously scored past TFF title PALO ALTO. Johnny Simmons (JENNIFER'S BODY, THE PERKS OF BEING A WALLFLOWER) sparkles as Monty, in a star-making role that runs the gamut of heartbreaking to hilarious; Amy Landecker ("Transparent," A SERIOUS MAN) co-stars as the sexy Olivia. The stellar supporting cast includes Frankie Shaw ("Mr. Robot"), Beverly D'Angelo (NATIONAL LAMPOON'S VACATION), Alan Ruck (FERRIS BUELLER'S DAY OFF), Noël Wells ("Master of None"), Jason Schwartzman (RUSHMORE), and Talia Shire (ROCKY).
Dreamland opens theatrically in New York and LA and on VOD on November 11th, 2016.