Scarlett Johansson Is Also Working On A Zelda Fitzgerald Biopic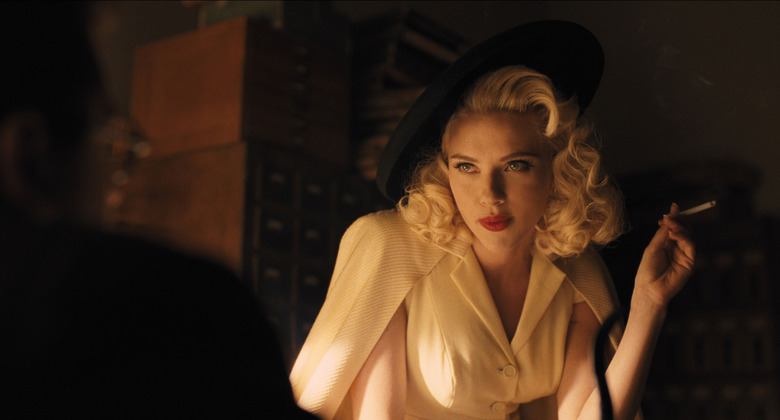 The other day we learned Jennifer Lawrence is attached to star in a Zelda Fitzgerald biopic, but that's not the only film about literary titan F. Scott Fitzgerald's wife in the works. There are currently two projects about Zelda Fitzgerald in development, and one of them is going to star Scarlett Johansson (Under the Skin). At the moment, though, neither biopic has a director attached.
Below, learn more about the Zelda Fitzgerald movies.
The Hollywood Reporter claims both projects are on the fast track. Millennium Films is financing the Johansson-led biopic, which is called Beautiful and the Damned. The title is a reference to F. Scott Fitzgerald's The Beautiful and Damned, his second novel which he based on his marriage to Zelda.
Unlike the Jennifer Lawrence project, titled Zelda, Beautiful and the Damned has the advantage of having secured the cooperation of the Fitzgerald estate. Hanna Weg's (Septembers of Shiraz) incorporates new transcripts from a sanitarium suggesting F. Scott Fitzgerald passed off some of his wife's ideas as his own. Millennium Films is in the midst of landing a director for the film, while Ron Howard is considering helming Zelda.
In a statement, Millennium president Mark Gill said we'll see a "co-dependency from hell with a Jazz Age soundtrack" in Beautiful and the Damned:
It was the height of the Jazz Age, so you have all of that glamor and sophistication and living large. But you also have the massive drama of fly high, crash hard. She was massively ahead of her time, and she took a beating for it. He stole her ideas and put them in his books. The marriage was a co-dependency from hell with a Jazz Age soundtrack.
Alcohol and jealousy often fueled Zelda and F. Scott Fitzgerald's deeply troubled marriage. Fitzgerald frequently wrote about their experiences, but apparently, he would also copy entries from Zelda's journal and use them in his work. When Zelda wrote her only novel, Save Me the Waltz, he was furious she used personal details he was intending on incorporating in Tender is the Night; he'd often undermine her literary ambitions.
Zelda wrote her one and only novel while being treated at Johns Hopkins Hospital. 16 years after Save Me the Waltz was published, Zelda Fitzgerald died tragically at the age of 48 in a hospital fire, while she was sedated and awaiting electroshock therapy. Many actresses, including Alison Pill and Christina Ricci, have played the icon in the past. We'll have to wait and see whether it's Lawrence or Johansson who plays Zelda next, but Beautiful and the Damned, in particular, sounds like a nice warts-and-all kind of biopic.