Mad Men' Creator Matthew Weiner To Make Modern Worldwide Anthology Series For Amazon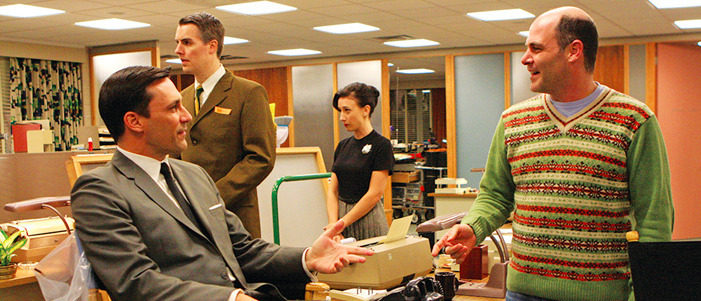 Almost a year and a half after the end of Mad Men, the drama's creator, Matthew Weiner, is now working on a new series. Weiner is teaming up with Amazon and The Weinstein Company for his next project. Little is known about the show, but Amazon has already given it a straight to series order.
Below, learn more about the new Matthew Weiner series.
Deadline reports Amazon and The Weinstein Company are co-financing Weiner's show, which costs $70 million. The outlet describes the present day-set show as a "contemporary anthology set in multiple locations worldwide." Weiner is writing and executive producing, in addition to possibly directing half of the eight episodes.
After Mad Men had ended, Weiner went on to write his debut novel, "Heather, the Totality," and direct an episode of Netflix's Orange is the New Black. Weiner's Amazon series is his first show since his AMC drama. In a statement, Weiner praised Amazon and The Weinstein Company:
In a time when there are so many options for entertainment, it's been tremendous to see how Roy Price and Amazon have taken center stage by distinguishing themselves through bold choices. I am truly excited to have this opportunity to work with risk takers like them and Harvey and The Weinstein Company who have a proven, longstanding commitment to creative voices and innovation.
TWC's Harvey Weinstein added:
We are thrilled to be working with Matthew Weiner on his new project. He is an incredible storyteller whose work on Mad Men elevated television and kick started a new era of innovative programming with compelling and addicting television content. We're looking forward to creating the next big series with him.
Matthew Weiner's Amazon series is great news for Mad Men fans. Ever since that finale aired, every once in a while you can't help but stop and think what a perfect note Weiner ended the series on. Managing a successful landing aside, Weiner gave us years of consistently excellent drama. You don't want a voice such as Weiner's absent from the world of television for too long.
One show Weiner was not interested in developing? A Mad Men spinoff. Even before Mad Men went off the air, there was some talk about spinoffs. AMC was interested in a show possibly about Peggy or Sally, but Weiner wasn't comfortable with the idea. A story Weiner did choose to tell, "Heather, the Totality," comes out later next year. The screenwriter and director's first novel is a dark fable.