Gerard Butler Returning For 'Olympus' And 'London' Sequel 'Angel Has Fallen'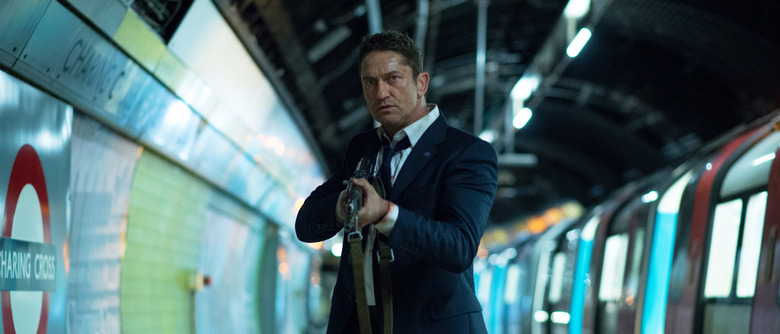 After saving the President of the United States in Olympus Has Fallen and London Has Fallen, Gerard Butler's Secret Service agent Mike Banning will be back to do it a third time in the just-announced sequel, Angel Has Fallen. What, exactly, is "Angel"? Find out after the jump. 
Deadline broke news of the London Has Fallen sequel, Angel Has Fallen. Like the past two films, this one will be a thriller about Banning getting increasingly sweaty and disheveled (but also increasingly badass-looking) as he runs around trying to save the day. But there's a plot twist: in this one, Banning is the target. And "if his attackers can take down half of Washington D.C. with it, all the better. Among those at risk include the President, whose official Air Force One plane is code-named Angel."
Hmm. At some point, you've gotta wonder if world leaders should feel safer away from this guy than around him. It's starting to get suspicious how much bad stuff happens in his proximity. And now he's the one the baddies are after? The President probably would've been safer if he'd just given Banning a pink slip and a severance package after the events of London. Of course, given that the past two films grossed a total of $350 million worldwide, there was never really any chance of that happening.
Angel Has Fallen is kind of a terrible title, one that brings to mind the cheesy old "did it hurt when you fell from heaven" pickup line. But if nothing else, let's give some credit to Millennium Films trusting that their audience will be able to figure out that Angel is the sequel to Olympus and London without shoving an unnecessary colon in there. None of this The Hunger Games: Catching Fire or Pirates of the Caribbean: Dead Men Tell No Tales nonsense for them.Angel Has Fallen is on track to shoot in the first half of 2017. No director has been announced and no release date has been set. Creighton Rothenberger and Katrin Benedikt will return to write the script.