Peter Jackson's 'Mortal Engines' Finally Moving Forward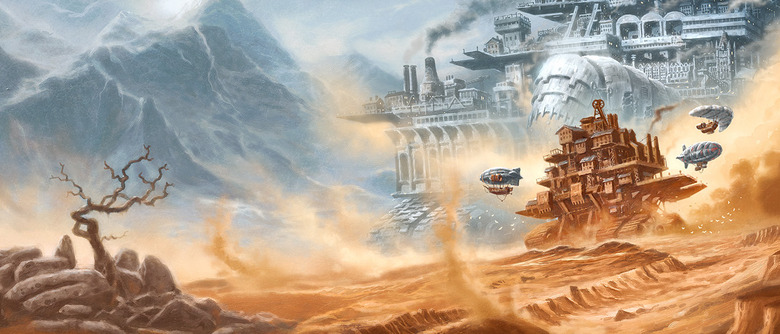 Several years ago, Peter Jackson got involved with Mortal Engines, a post-apocalyptic steampunk adventure based on the books by Philip Reeve. The project went on the backburner while Jackson went off to direct the three Hobbit movies, but now that he's back from Middle-earth he's getting Mortal Engines going again. However, he won't be the one directing. Instead, Mortal Engines is revving up with Jackson protégé Christian Rivers behind the wheel.
According to Deadline, Mortal Engine is a go at MRC and Universal, with production slated to begin next spring in New Zealand. The project reunites many of the people who worked on Jackson's Tolkien franchise. Jackson will produce with his wife Fran Walsh, who has worked on all of his movies since 1989's Meet the Feebles. The pair also wrote the script with Philippa Boyens, who teamed with them on all the Lord of the Rings and Hobbit movies as well as King Kong and The Lovely Bones.
Rivers, too, is a longtime collaborator of Jackson and Walsh's, starting out as a storyboard artist on Dead Alive. He did VFX work on the Lord of the Rings movies and won an Oscar in 2006 for King Kong. More recently, he served as a splinter unit director on The Hobbit: An Unexpected Journey. But his most recent project doesn't involve Jackson at all — he was the second unit director on Disney's Pete's Dragon. Mortal Engines marks his feature directing debut.
First launched in 2001, Reeve's Mortal Engines series is set in a post-apocalyptic world where "traction cities" roam the earth gobbling up resources and sometimes each other. In the first book, the mayor of London has plans to consume a smaller town, with potentially disastrous consequences. It falls to a group of young people to stop him and save the day. It all sounds a bit like Mad Max meets Victorian-era London, with some of the reliable YA tropes mixed in. Mortal Engines is the first of four books so far, and of course Universal is hoping the movie adaptation will launch a franchise.