Netflix's 'The Get Down' Budget Keeps Ballooning, Now Costs $16 Million Per Episode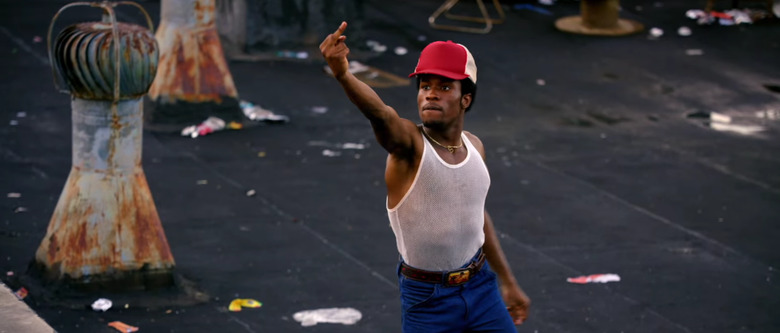 The Get Down is a lavish production and looks like one, but even fans of Baz Luhrmann's opulent style may be surprised to learn just how expensive it is. A new report claims the 1970s hip-hop drama costs something like $16 million per episode, meaning the entire 12-episode first season will come out to a total of around $190 million. Making matters worse, viewership estimates indicate The Get Down may be a rare flop for the streaming service. 
It goes without saying that The Get Down was always meant to be a costly affair. You don't hire Baz Luhrmann to co-create a musical drama set in 1970s New York and expect a restrained, small-scale project. Add in other high-profile talents like iconic musicians Nas and Grandmaster Flash, Oscar-winning costume designer Catherine Martin, and Pulitzer-winning writer Stephen Adly Guirgis, not to mention a sprawling cast and elaborate sets, and there was no way this show was ever going to be cheap.
However, Deadline reports, it's proven to cost much more than the company expected. According to their sources, Netflix is probably paying around $16 million per episode. For comparison, Game of Thrones, which is considered an expensive drama, came out to about $10 million per episode in season six. Mind you, Variety reported over the summer that The Get Down was initially budgeted for about $7.5 million per episode before stops and starts and Lurhmann's intense involvement pushed that figure way up.
The Get Down released the first half of its 12-episode season over this past summer and is still working on finishing up the second half, so there's a chance these numbers will continue to balloon before the whole thing is done. (The second half will hit Netflix sometime in 2017.) All of this means The Get Down is one of the most expensive shows in TV history, and definitely the most expensive show Netflix has ever produced. That might not be so terrible if The Get Down were at least a big hit, but it's not at all clear that it is.
Although Netflix does not release viewership numbers, outside companies have tried their best to estimate how well Netflix's shows are doing, and most of their guesses don't look great for The Get Down. Symphony Advanced Media (via Variety) says The Get Down got 3.2 million total viewers among U.S. adults 18-49 in its first 31 days of release, compared to 13.23 million for Stranger Things or 8.18 million for Daredevil season 2. Another company, Parrot Analytics, adds that the show fell off quickly in the weeks after its release.
Nor have critics really gone gaga over The Get Down. It got generally positive reviews, but the praise was nowhere near as unanimous as we've seen for other Netflix shows like Stranger Things. And anecdotally, I've heard far fewer people talking about The Get Down than, say, Luke Cage or Stranger Things or Orange Is the New Black. (Admittedly, that's a very skewed sample and may say more about the people I talk to than the show itself.)
However, it's worth pointing out that since Netflix has a very different subscription model from your typical broadcast, cable, or even premium cable network, "success" doesn't necessarily mean the same thing at Netflix that it might at AMC or HBO. While The Get Down's raw numbers don't look great, it can still be useful to the company if it expands the subscriber base. A Netflix insider told Deadline that the show does well with younger viewers and African-American and Latino viewers, as well as viewers outside the U.S.
Again, Netflix doesn't release viewership numbers so it's possible that's just spin. Maybe we'll get a better idea of how Netflix really feels about the show next year, when they renew The Get Down for a second season — or don't.