New 'John Wick: Chapter 2' Images Pay Homage To Bruce Lee's 'Enter The Dragon'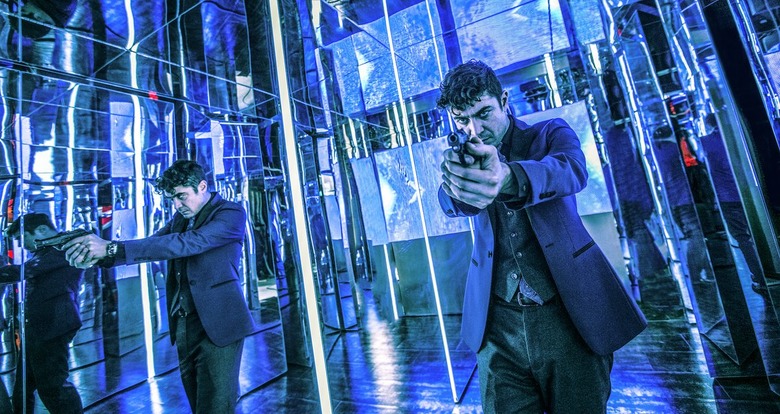 John Wick: Chapter 2 brings Keanu Reeves back for more deadly assassin action, but this time around he'll find himself facing whole new dangers in whole new settings. A couple of new John Wick: Chapter 2 photos reveal just what that might look like.
In one, Reeves' John Wick makes his way down a crowded city street in a sharp suit that's looking a little less sharp after a long day of, presumably, beating people up. The other spotlights the new villains played by Riccardo Scamarcio and Ruby Rose, also sporting killer suits. Say what you will about the morality of murdering people for a living, but these characters all look damn good doing it. Check 'em out below. 
Empire shared the new John Wick: Chapter 2 photos.
The second photo shows the villains in a hall-of-mirrors art installation that may remind you of a certain other action movie classic. According to Reeves, it was director Chad Stahelski's idea. "It's his homage to Bruce Lee at the end of Enter The Dragon," Reeves explained to the publication. "The whole installation is a maze of mirrors where guys can pop out and disappear. It's very cool and a lot of fun to fight in."
And while that might be the most obvious visual reference to Asian cinema, it'll be a major influence throughout the whole film. Said Stahelski:
You go watch any of the great Hong Kong guys. [you're watching] wider shots; you're watching an extremely talented individual. If you're using fast editing to hide things, I call bullshit. That's cheating. Luckily, we have a cast member that can do it. Keanu's been doing martial arts for 25 years. He's been trained by us, he's been trained by Yuen Wo Ping. He's been trained by Chen Yen.
While John Wick: Chapter 2 is sure to deliver more of what fans loved about the first movie, the filmmakers have emphasized that it won't be a simple retread. Stahelski suggested it'd go the Aliens route of taking the franchise in a new direction, but Reeves has his own analogy to explain the difference. "It's like going back to your favorite restaurant but this time, instead of getting to the fillet, you're getting the porterhouse," he said.
John Wick: Chapter 2 opens February 10, 2017.
Keanu Reeves returns in the sequel to the 2014 hit as legendary hitman John Wick who is forced to back out of retirement by a former associate plotting to seize control of a shadowy international assassins' guild. Bound by a blood oath to help him, John travels to Rome where he squares off against some of the world's deadliest killers.