'Incarnate' Trailer: The Power Of Aaron Eckhart Compels You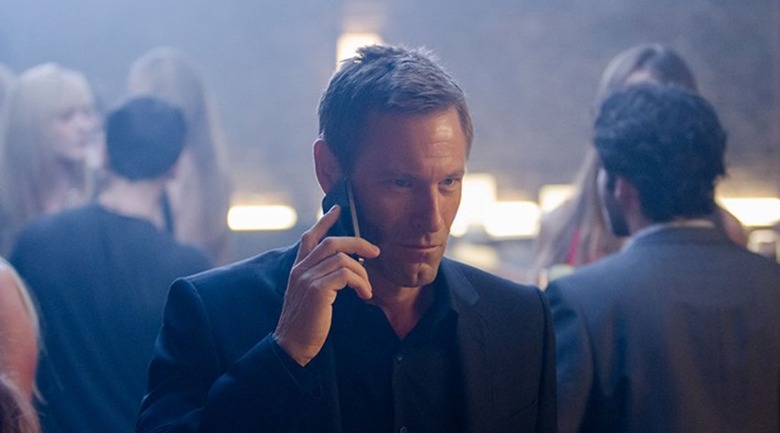 This Blumhouse Production started shooting almost three years ago. For unknown reasons, Brad Peyton's horror film Incarnate has been sitting on the shelf for a while. The WWE co-production is also Peyton's first horror movie. He previously directed San Andreas, Journey 2: The Mysterious Island, and Cats & Dogs: The Revenge of Kitty Galore, so this Aaron Eckhart-led exorcism movie is uncharted territory for the director. Now there's a new Incarnate trailer you can watch below.
Dr. Seth Ember (Eckhart) is an "incarnate." The man has the power to enter the minds of those possessed by evil spirits. His latest mission from the Vatican is to get into the mind of a young man (David Mazouz) to battle a demon. Ember discovers the spirit possessing the boy is the same one responsible for the death of his wife and child. It's up to Ember to stop the demon before it kills the kid and wreaks havoc on Earth. Peyton's horror film co-stars Game of Thrones and Black Book star Carice van Houten.
Here's the Incarnate trailer:
I remember years ago Aaron Eckhart was on the Howard Stern Show, promoting another recent genre title of his, I, Frankenstein. It's a particularly memorable interview, for a variety of reasons, but mostly because Eckhart discussed the extremes he'd go to for a film. What the actor did to prepare for Rabbit Hole is something else, but when it comes to Incarnate, the method actor remained in the character's wheelchair during shooting, and he also spent time in the wheelchair when he wasn't filming. Even when Eckhart was making I, Frankenstein, the Sully co-star stayed in character as Adam (the name gargoyle queen gave him). No matter the movie he clearly gives his all. Let's hope that level of dedication comes through in Incarnate, which has a pretty routine trailer.
Here's the official synopsis:
Confined to a wheelchair after a horrific accident, Dr. Seth Ember (Aaron Eckhart) is an "Incarnate" — gifted with the rare ability to delve into the minds of possessed people in order to exorcise their demons from the inside out. When the Vatican enlists him to exorcise a particularly troubled young boy, Ember is shocked to discover inside him the same evil spirit responsible for the death of his wife and child years before. Now, with the young boy's life in his hands and his own personal redemption at stake, Ember desperately searches for a way to destroy the demon before it kills him and unleashes its terror upon the world...
Incarnate opens in theaters December 2nd.