Narcos Season 3 Cast Announced, But Will Boyd Holbrook Return As Agent Steve Murphy?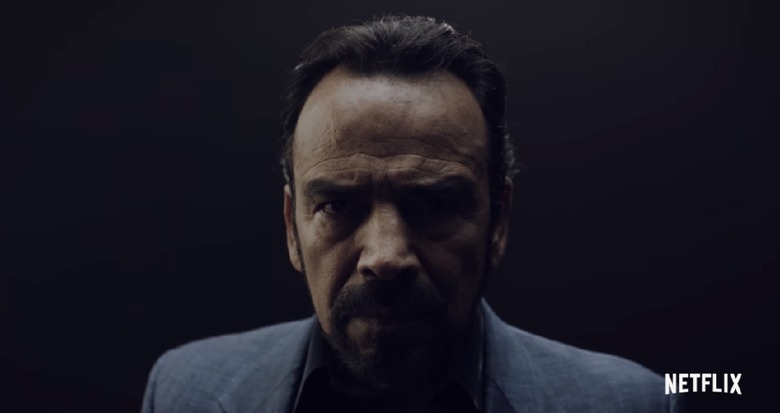 We know that Netflix has plans for at least two more seasons of its hit crime drama Narcos, but with the big bad transitioning from Pablo Escobar (Wagner Moura) and the Medellin Cartel to Gilberto Rodriguez Orejuela (Damian Alcazar) and the Cali Cartel. Now that Netflix is beginning to announce the cast for Narcos season 3, we wonder if Boyd Holbrook's character agent Steve Murphy will be reuniting with Pedro Pascal's Javier Pena in the new season. Hit the jump to learn about four new members being added to the Narcos Season 3 cast, and let's talk about who might be returning from the previous seasons.

Cloverfield star Michael Stahl-David and New Zealand actor Matt Whelan (Go Girls) have joined the Narcos Season 3 cast as series regulars. According to THR, Stahl-David will be playing Chris Feistl, a young American DEA agent who is more straight-edge and serious, "sought out assignment to Colombia as the drug trade shifts to the Cali Cartel's takeover in the wake of Pablo Escobar's death."" Whelan will take the role of his partner Daniel Van Ness. And the first production photo confirms that Pedro Pascal is returning as DEA agent Javier Pena even though the real-life person wasn't involved in bringing down the Cali Cartel.Broad City's Arturo Castro and Halt and Catch Fire's Kerry Bishé are also coming on board as series regulars. Castro will play William Rodriguez, "Miguel's oldest son, although he is reluctant at first to take a leading role in the cartel structure, as his Uncle and Father are arrested, he must take over." Bishé will play Christina, "an American woman who met her Colombian husband in college. But as her husband gets deeper involved in the cartel and things start to go badly for the people around them, she knows she needs to get her family out, so she turns to the US Embassy for help."
.@Narcos adds pair of series regulars amid season 3 shift (exclusive) https://t.co/oRtbIyyaMa pic.twitter.com/HHrbCfyYQh

— The Hollywood Reporter (@THR) October 20, 2016
It is not confirmed if Boyd Holbrook will return as his partner Steve Murphy. Holbrook has been trying to make the transition to movies, recently appearing in the trailer for Wolverine 3: Logan and rumored to be in Shane Black's The Predator. It's possible that his schedule won't allow for him to continue with this television series. I've found his character to be one of the most unlikable parts of the first two seasons, so it's also possible that the showrunners have chosen not to include him in the next season.
In real life, both agents left Colombia after bringing down the famous drug kingpin and weren't involved in the hunt for the Cali Cartel.
After vacationing with his wife, Steve and Connie moved back to the United States in June 1994. They adopted their second daughter in May before they returned. Pena left in October 1994. Pena has explained, "The Medellin Cartel was the Wild Wild West and Cali was businesslike. They were accountants, professional money-launderers. They were more sophisticated and very different cartels. Cali moved a lot of dope and sent more to the U.S." Murphy did have this to tease on a final note: "The agent who was there when the Cali Cartel was taken down, I think you'll see him in season three."
After the second season, executive producer Eric Newman was asked if Murphy's character would return for the third season, and this was his response: "I am really proud of Murphy's story and the evolution. One of the things you have to consider is: Is his story over?" The first two seasons have been a mixture of fact and made-up drama, with Hollywood taking artistic liberties while remaining close to the true timeline, characters, and overarching story.
Netflix released the above teaser trailer when announcing Narcos season 3, revealing that the series would follow Gilberto Rodriguez Orejuela (Damian Alcazar) and the Cali Cartel.
Narcos Season 3 will premiere in 2017.