'Aquaman' Will Be A Quest Story In The Spirit Of 'Indiana Jones'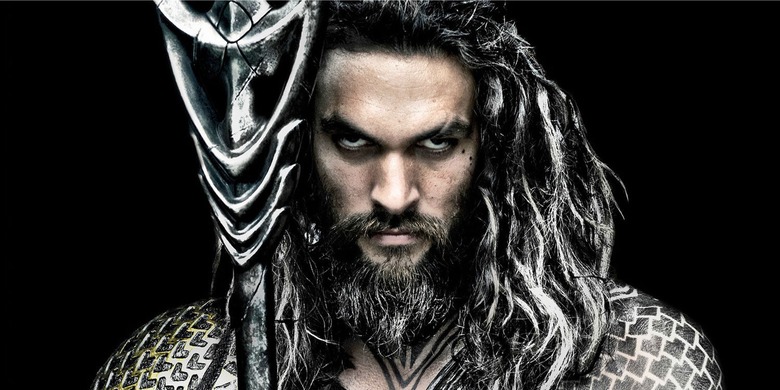 It's been over a year since filmmaker James Wan officially signed on to direct Aquaman, but we still don't know much about the DC standalone film. Wan is keeping the details very close to the vest but has recently revealed that Jason Momoa's upcoming DC film Aquaman will be a quest story in the spirit of an Indiana Jones film. Hit the jump to learn more about the Aquaman Indiana Jones comparison.
The new revelation was made by Wan to Entertainment Tonight at the Australians in Film Awards Gala at NeueHouse in Hollywood on Wednesday:
I kind of don't want to give too much away, but know this: The spirit that I'm going for is like a classic sort of swashbuckling action adventure, sort of high seas adventure story. It's a quest story potentially in the spirit of Raiders of the Lost Ark meets Romancing the Stone.
Okay, count me as very interested. For a while now Marvel has been setting their superhero films in different genres, and it seems like DC is also attempting the same formula. Wonder Woman is looking to be shaping up to be their period epic; The Flash is a time-travel buddy adventure and Aquaman is a quest movie.
Previously we learned that Wan chose to direct Aquaman over The Flash because he was attracted to "the possibility of creating a whole new world." Wan has said that he "always wanted to do a world creation story and visually create this amazing, incredible, magical kingdom." He later added:
The idea of creating a huge world that is on our planet. That's the thing about Aquaman that's cool is he's not an alien, right? He's from our planet and he's from a society that we're not privy to in the context of the story. Isn't it crazy to think that we've explored space more than we have explored the depths of our ocean? That just fires up my imagination about potential sea monsters and cool creatures, that kind of stuff.
Wan has described the character as "kind of the Wolverine in some respect," an "outsider who gets pulled into this world and he kind of doesn't want to belong and he was doing his own thing."
And he prided freedom above everything else. That kind of plays nicely into who his character is. He's like a reluctant superhero, right? He's the reluctant king, basically, or would-be king.
At Comic-Con, Wan talked about how this underwater world would have a bit of a horror element to it, tapping into some of his notable genre talents. It's also been rumored that the villain for the film will be long-time comic rival Black Manta. In the comics, Manta is out for revenge against Aquaman for killing his father.
Wan has said that Momoa's appearance in Justice League "will be an experiment" to see "what works and what may not work as well." Now that Wan has seen footage from Justice League, he says the following: "I think Amber [Heard] and Jason Momoa, in their moments in Justice League, [are] going to give the rest of the world a flavor of what their own standalone movie could be. And that is just scratching the surface of what I plan to do."
Aquaman will hit theaters on July 27, 2018.