'Nocturnal Animals' Trailer: Amy Adams And Jake Gyllenhaal Look Damn Good In Tom Ford's Thriller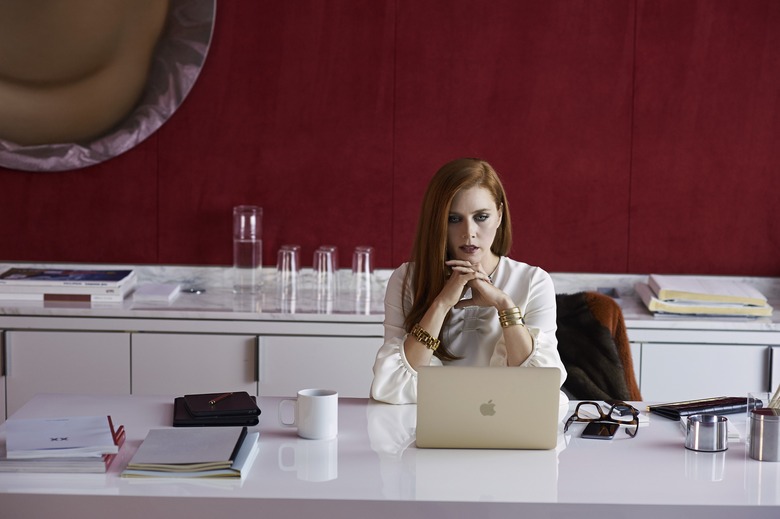 The new Nocturnal Animals trailer is so decadently gorgeous, you'd think it was a Tom Ford ad. And, well, technically it is — but it's not for one of his fragrances or clothing lines. Nocturnal Animals is the new film by Ford, the fashion designer who made his feature directing debut on A Single Man.
This one stars Amy Adams and Jake Gyllenhaal as a divorced couple who've been estranged for many years. But their shared past comes rushing back to the forefront when Edward sends Susan a manuscript of his latest novel, a dark thriller about a family assaulted one night on a deserted West Texas road. Cutting between Susan's life and the story in Edward's novel, Ford weaves together a riveting tale of love, betrayal, and revenge. Watch the Nocturnal Animals trailer below.
Nocturnal Animals Trailer
Based on the novel Tony and Susan by Austin Wright, Nocturnal Animals is a twisty thriller that keeps you guessing. I saw the film at TIFF, and while I don't think Ford has much new to say about love or revenge, he does a hell of a job making it impossible to look away. In part it's because Nocturnal Animals is just so damn pretty, but it's also because of the film's intense and at times borderline nightmarish mood. Plus, Ford and his two leads are aided by an excellent supporting cast including Aaron Taylor-Johnson as a sleazeball with a sadistic streak, and Michael Shannon as an amusingly matter-of-fact lawman.
Nocturnal Animals opens November 18. Isla Fisher, Ellie Bamber, Armie Hammer, Laura Linney, Andrea Riseborough, Michael Sheen, and Jena Malone also star.
From writer/director Tom Ford comes a haunting romantic thriller of shocking intimacy and gripping tension that explores the thin lines between love and cruelty, and revenge and redemption. Academy Award nominees Amy Adams and Jake Gyllenhaal star as a divorced couple discovering dark truths about each other and themselves in "Nocturnal Animals."