Gugu Mbatha-Raw Joins Ava DuVernay's 'A Wrinkle In Time'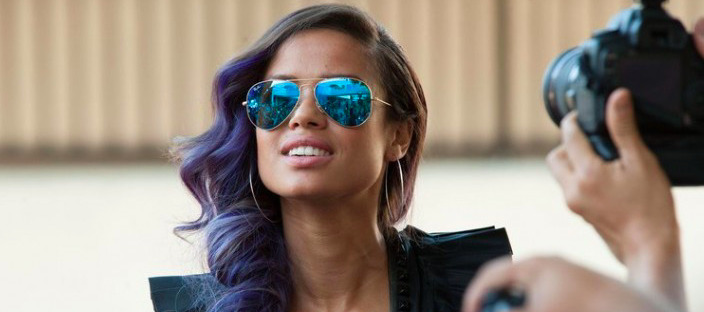 Gugu Mbatha-Raw is the newest actor to board Ava DuVernay's A Wrinkle in Time adaptation. The actress delivered great, emotional breakout performances in Belle and Beyond the Lights. Since those dramas hit theaters, we've seen Mbatha-Raw in Concussion, Free State of Jones, The Whole Truth, and a personal favorite of our own Angie Han, Jupiter Ascending. The actress is now set to play Mrs. Murry in DuVernay's adaptation of Madeleine L'Engle's classic fantasy novel.
Below, learn more about the A Wrinkle in Time cast.
Variety got the exclusive on Mbatha-Raw playing Mrs. Murry. The scientist helps her husband Mr. Murry, who goes missing, discover the wrinkle in time. Kate Murry has four children, including Meg Murry (Storm Reid), who's in awe of her mother's intelligence, composure, and beauty, which a part of her envies. Meg, a 13-year-old outcast who's a math whiz kid, searches the universe her father. Meg's brother, Charles, and a schoolmate, Calvin, go along for the journey and visit other planets with her. During their adventure, they receive help from three fantastical beings, Mrs. Which (Oprah Winfrey), Mrs. Whatsit (Reese Witherspoon), and Mrs. Who (Mindy Kaling).
On Twitter, DuVernay was more than happy to confirm Mbatha-Raw's casting:
The director has recently shared some photos from pre-production, so if you're a Wrinkle in Time fan, you may want to keep an eye on her social media account for future behind-the-scenes photos. She just announced with a new pic that sound mixer Willie Burton (Selma), the most nominated African-American person in the history of the Academy Awards, and his team are working on the film. The Disney movie, which is written by Jennifer Lee (Frozen), is expected to begin shooting soon. While we have a while to go before we see DuVernay's next picture, her latest piece of work, The 13th, is now available to stream on Netflix.
As for Gugu Mbatha-Raw, you'll soon see her in a new episode of Black Mirror. The actress also co-stars in next year's live-action Beauty of the Beast remake and Bad Robot's God Particle. Before the year comes to a close, we'll see her in the Jessica Chastain-led drama, Miss Sloane.
Here's a summary of Madeleine L'Engle's novel, which is part one of the five-part Time Quintet series:
It was a dark and stormy night; Meg Murry, her small brother Charles Wallace, and her mother had come down to the kitchen for a midnight snack when they were upset by the arrival of a most disturbing stranger.
"Wild nights are my glory," the unearthly stranger told them. "I just got caught in a downdraft and blown off course. Let me sit down for a moment, and then I'll be on my way. Speaking of ways, by the way, there is such a thing as a tesseract."
A tesseract (in case the reader doesn't know) is a wrinkle in time. To tell more would rob the reader of the enjoyment of Miss L'Engle's unusual book. A Wrinkle in Time, winner of the Newbery Medal in 1963, is the story of the adventures in space and time of Meg, Charles Wallace, and Calvin O'Keefe (athlete, student, and one of the most popular boys in high school). They are in search of Meg's father, a scientist who disappeared while engaged in secret work for the government on the tesseract problem.
A Wrinkle in Time's release date is TBD.