'Legion' TV Spot: FX's 'X-Men' TV Series Gets A Little Crazy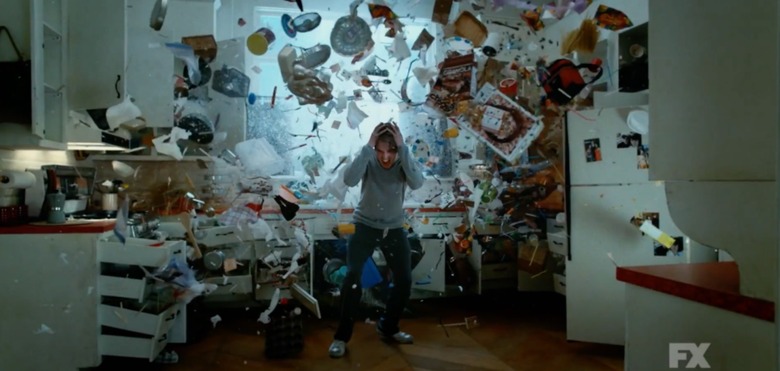 At San Diego Comic-Con 2016, FX premiered a trailer for Legion, their upcoming series based on Marvel's X-Men comics from Fargo showrunner Noah Hawley. If that didn't have you excited for this new show, we've since learned that the show might connect with future X-Men movies, will likely feature an appearance from Professor Xavier and Flight of the Conchords star Jemaine Clement has joined the cast for a multiple-episode arc.
Now FX has released a new television spot for Legion that asks the question: Does David Haller know what he is?  Dan Stevens' (The Guest, Downton Abbey) character David Haller, a schizophrenic yet powerful telepathic and telekinetic mutant who may or may not be Professor X's son. The new Legion tv spot focuses on Haller's craziness. Watch it now, embedded after the jump.
Legion TV Spot: Powerful Real
In the series, David Haller is a troubled young man diagnosed as schizophrenic. After half a lifetime of going in and out of hospitals, he starts to realize that the voices in his head might be real. I'm interested in this series because of Noah Hawley's involvement mostly, but I'm also a fan of Aubrey Plaza and Jemaine Clement.
In addition to Dan Stevens, the show also features Rachel Keller (Fargo), Jean Smart (Fargo), Aubrey Plaza (Parks and Recreation), Jeremie Harris (A Walk Among the Tombstones), Amber Midthunder (Hell or High Water), Katie Aselton (The League), Jemaine Clement (Flight of the Conchords) and Bill Irwin (Interstellar). Lauren Shuler Donner, Bryan Singer, Simon Kinberg, Jeph Loeb, Jim Chory, and John Cameron executive produce. The official plot synopsis for Legion follows:
Legion follows David Haller, a troubled young man who may be more than human. Diagnosed as schizophrenic, David has been in and out of psychiatric hospitals for years. But after a strange encounter with a fellow patient, he's confronted with the possibility that the voices he hears and visions might be real. Legion debuts in early 2017 and is produced by FX Productions and Marvel Television.
Legion will premiere in February 2017 on FX.