'Captain Planet' Movie In The Works From Producer Leonardo DiCaprio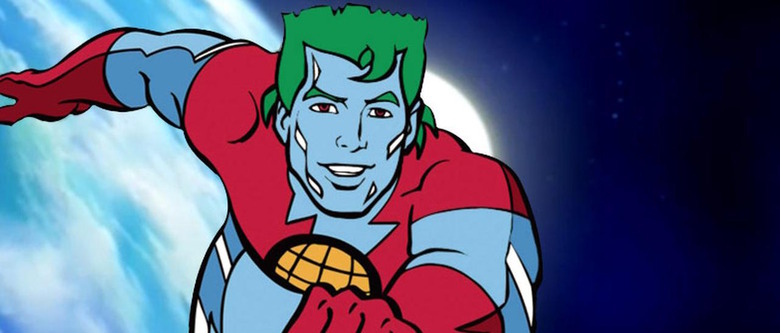 Well, everything else from the '90s is getting rebooted, so it was surely just a matter of time before we wound up here: Paramount is looking to make a Captain Planet movie, with Leonardo DiCaprio on board to produce. Also looking to get involved is Everybody Wants Some!! star Glen Powell, but not as an actor — instead, he's in talks to write the script with Jono Matt. 
According to The Hollywood Reporter, Paramount is negotiating to pick up the rights to Captain Planet and the Planeteers. (A Captain Planet movie was in development at one point at Sony, but the clock has run out on the rights.) The 1990s animated series followed a group of five kids who are gifted with the power to control the elements and tasked with helping to save the planet. Together, the Planeteers are able to summon the superhero Captain Planet, who helps them battle environmental issues.
In its original iteration, Captain Planet was super earnest and super positive in a way that might seem out of place in this day and age. But Paramount apparently has their eye on a more "subversive" take from Matt and Powell. Their pitch is set many years after the events of the original show. Captain Planet is now a washed up has-been who needs the kids more than they need him. Given that DiCaprio is a devoted environmentalist, though, I'm guessing at least a few of the property's "save the planet" themes will still make it into the movie.
Powell is best known as an actor, with credits including Fox's Scream Queens, The Expendables, Everybody Wants Some!!, and the upcoming Hidden Figures. It's unclear if whether he might star in Captain Planet as well as help write and produce it. He's previously written and produced short films like J.A.W. (directed by and starring Birth of a Nation's Nate Parker). Matt wrote the indie film Above the Line and recently worked on an action-adventure reboot of Doctor Dolittle.
While we wait for DiCaprio's Captain Planet, take a look back at this hilariously twisted live-action version from Funny or Die starring Don Cheadle.