VOTD: 'Borrowed Time' Is A Gorgeous, Grown-Up Animated Short Made By Pixar Artists In Their Free Time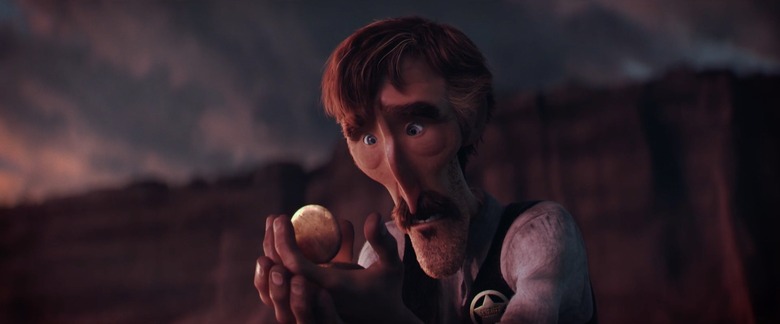 Pixar has a well-earned reputation for a willingness to go dark. The first 20 minutes of Up can reduce even the most stoic men and women to tears, and Toy Story 3 gets scarier than most PG-13 blockbusters. Heck, the studio once released an entire film about the importance of feeling bad sometimes. But there's territory so poignant even Pixar won't go there. So Pixar animators do so in their downtime instead.
Borrowed Time is a short film from co-directors Andrew Coats and Lou Hamou-Lhadj, who've been chipping away at this project on the side while spending their days on movies like Inside Out and Brave. Set in the Old West, it follows an aging sheriff filled with regret and guilt over one tragic memory from his youth. It's meticulously designed and deeply emotional, like Pixar's best work, but with a more mature vibe. Oh, and best of all, it's available to watch for free for a limited time. Hit the jump to check it out right now. 
Here's the synopsis:
A weathered Sheriff returns to the remains of an accident he has spent a lifetime trying to forget. With each step forward, the memories come flooding back. Faced with his mistake once again, he must find the strength to carry on.
Hamou-Lhadj and Coats also released a brief featurette explaining what they hoped to accomplish with Borrowed Time.
As they explain, they wanted to challenge ideas about what animation could accomplish. "The goal for us was to make something that kind of contested the notion of animation being a genre and one for children specifically," says Hamou-Lhadj. "We really wanted to make something that was a little bit more adult in the thematic choices and show that animation could be a medium to tell any sort of story."
At the same time, though, they wanted to toy with classic Western archetypes. "We wanted to take what the stereotype of the strong, sort of physical cowboy that didn't wear their emotions on their sleeve and see what it would look like to take that to a place that's deeper and more emotional to him and see what that looks like in the Western iconography," says Coats.
The result is a movie that's got all the ingredients of a Western — a grizzled sheriff, a violent shootout and a dramatic chase, a twangy guitar soundtrack, a stunning and desolate desert vista — but feels unlike most Westerns you've seen. The exciting chase doesn't end with a death-defying hero moment, but in tragedy that our protagonist is still reeling from, many years later. And the film doesn't offer him a happy ending, just heart-rending catharsis.