Ben Affleck's Batman Solo Movie Shoots In 2017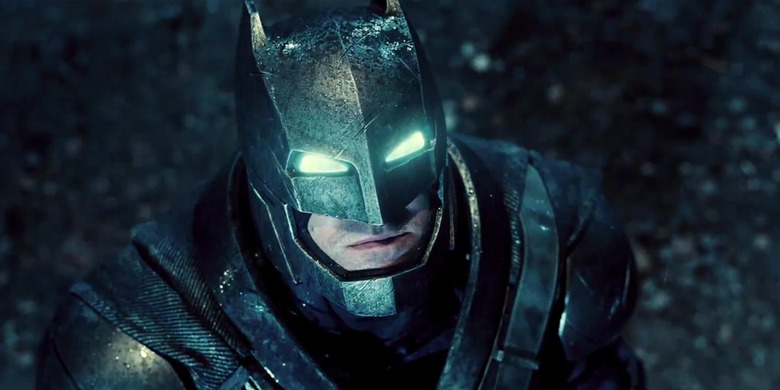 Warner Bros. still has not announced an official release date for the solo Batman movie that may or may not be titled The Batman, but it sounds like they're zeroing in on a start date. Actor Joe Manganiello, who'll play the villain Deathstroke in the film, reveals shooting will begin next year with star and director Ben Affleck. 
Manganiello spilled the beans to ET, telling them he is "getting ready to go shoot Batman in the spring." Last month, Time Warner CEO Jeff Bewkes said the film was about "a year and a half out." Assuming he was talking about the film's release date (rather than its production start date), it sounds like The Batman is just slightly behind that projected schedule. Most of Warner Bros.' DC Extended Universe movies have taken about 16-22 months to get from the beginning of shooting to the theatrical debut.
Given that, we can start narrowing down a range for The Batman's release. If filming really does get underway next spring, and the project takes about a year and a half after that to reach theaters, we're likely looking at a release date in fall 2018 or maybe as late as spring 2019. It happens that Warner Bros. already has October 5, 2018 set aside for an as-yet-unnamed DC movie, and from here it looks like there's a very good chance that slot will go to The Batman.
Of course, that's assuming everything goes according to plan. There's no doubt Warner Bros. and Affleck are planning a Batman movie, but they've been very, very careful not to make any official, public commitments about the timing. "There is no Batman movie happening yet," Affleck cautioned just this month. "We're still trying to figure it out, you know, get the script and budget and all that stuff."
And that's not necessarily a bad thing. The fan reception to Batman v Superman and Suicide Squad were both less than ideal. If Warner Bros. and Affleck need a little extra time to get The Batman right — and if that means refusing to lock themselves into a release date in the meantime — they should take all the time they need. The last thing fans or this studio need is a half-baked project slapped together in a rush just for the sake of getting something out there.
Especially since DC fans will have plenty of other movies to occupy them in the meantime. There's Wonder Woman on June 2, 2017 and Justice League just a few months later on November 16, 2017. Plus The Flash and Aquaman are both in pre-production for 2018, and Shazam, Justice League 2, Cyborg, and Green Lantern Corps are all in development for release between 2019 and 2020. Heck, we won't even have to go without Affleck's Batman for very long, as he's expected to appear in both Justice League movies.