Watch Homer Simpson Give Jimmy Kimmel A Tour Of Springfield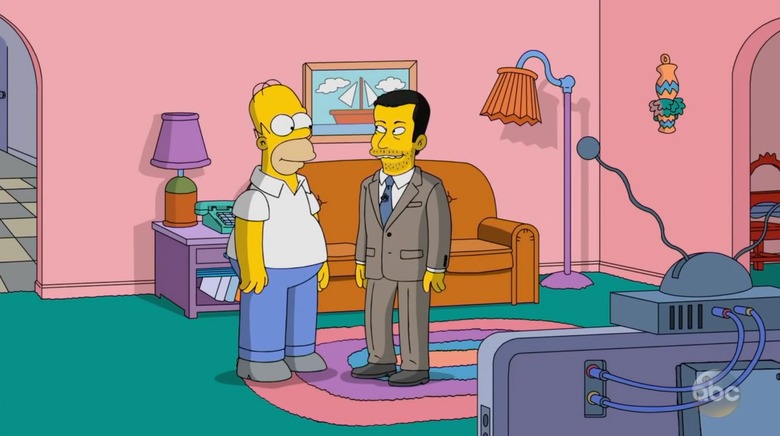 To celebrate the 600th episode of The Simpsons, talk show host Jimmy Kimmel took a tour of Springfield with its most famous resident, Homer Simpson. Hit the jump to watch the two-minute animated segment. Enjoy the Jimmy Kimmel Simpsons Springfield tour video now, after the jump.
Jimmy Kimmel Simpsons Springfield Tour Video
On an episode of Jimmy Kimmel Live last week, host Jimmy Kimmel was transported into the animated world of The Simpsons. And the two-minute long sequence follows Homer Simpson giving Kimmel the "50 cent tour" of his famous hometown, which includes the Simpsons home residence, the Springfield Nuclear Power Plant, Moe's Tavern, Bart's school and more.
He also gets to meet some other members of the family while asking some of the questions we've always wanted to know about America's favorite animated family, like "how old is Maggie?" If you're a fan of The Simpsons or have ever watched the show, you'll likely get a kick out of this short segment.
We've previously told you that Fox will be celebrating the milestone 600th episode of The Simpsons with an exclusive virtual reality couch gag sequence. The 600th episode of The Simpsons, "Treehouse of Horror XXVII," aired last night (Sunday, October 16th, 2016).