'Thor: Ragnarok' Will Be The Most "Out There" Of The Marvel Movies, Teases Taika Waititi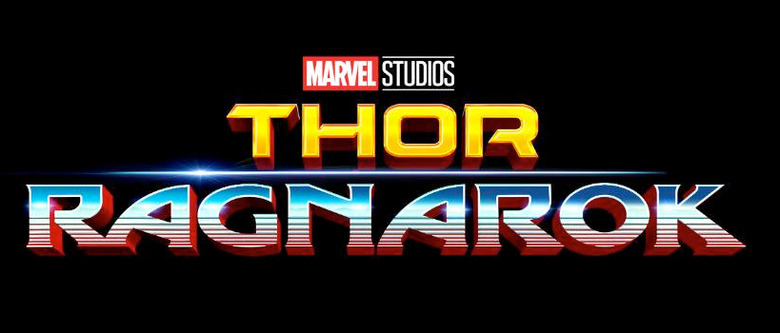 It wasn't the splashiest surprise at this year's Marvel Comic-Con panel, but the new Thor: Ragnarok logo definitely got some fans talking. As our own Ethan Anderton put it at the time, it looked "very similar to the old logo for the Masters of the Universe cartoon and toy line." It certainly stood in sharp contrast to the more traditional-looking logos of Thor movies past.
Well, it turns out the retro vibe is very much intentional. In a Reddit AMA, director Taika Waititi described Thor: Ragnarok as "'70s/'80s sci-fi fantasy," and teased that it might just be "the most 'out there' of all the Marvel movies." In addition, he admitted he tries to ignore the other Thor films, swore up and down that he knows nothing about the rest of Marvel's future plans, and promised Mark Ruffalo's Bruce Banner would steal the show. 
Waititi confirmed that the Thor: Ragnarok logo is very much in line with the movie itself. "The new logo suits the '70s / '80s sci-fi fantasy that this film is becoming," he said. If that doesn't sound much like Thor or Thor: The Dark World, well, Waititi seems okay with that. "I made an effort to ignore the fact there are other Thor films," he admitted. And Marvel is too, apparently, as Waititi repeatedly talked up the "creative freedom" he got in the making of Thor: Ragnarok.
According to him, the upcoming sequel will be a completely different beast. "The tone is very different. Think CRAZY," he teased. "I think [Thor: Ragnarok] will be one of the most adventurous and most "out there" of all the Marvel movies. It's a crazy movie." Among other things, it'll feel more like, well, one of his own movies. "You can expect a Taika-esque tone. They've been very accepting of my style," he said of Marvel, adding that we'll see Chris Hemsworth use "all" of his comedy chops in the film.
Speaking of the leading man, Waititi reassured fans that he's tried to do justice to the character. "This is something we concentrated a lot on. Thor is awesome now," he said. But the superhero he really thinks is going to steal the show? "Banner," he replied. Plus, those who excited for Tessa Thompson's induction into the MCU will be happy to hear she's got a "decent sized role" as Valkyrie.
Interestingly, given all the speculation about Thor: Ragnarok's connection to Avengers: Infinity War and other upcoming films, Waititi swears he knows next to nothing about what's happening in the rest of the MCU. "They tell me nothing and that's the way I like it," he said. "I have to concentrate on my film and make it the best." When one person asked about the challenges of fitting Thor: Ragnarok into the existing continuity, Waititi responded, "I didn't bother trying."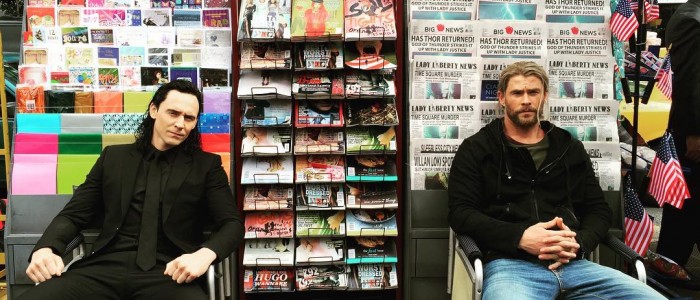 Taika Waititi Reddit AMA Highlights
Waititi has a favorite Marvel movie. The director insisted that he does watch the Marvel movies, and named James Gunn's Guardians of the Galaxy as his favorite. But he hasn't seen all of them. "I better see Winter Soldier," he said when a fan asked about comparisons between the two films.
Look out for Easter eggs. Waititi hedged around the question of a Doctor Strange connection, but acknowledged there will be "probably a reference" to the Sorcerer Supreme in Thor: Raganarok. He also revealed which Easter egg he really wanted to include. "If it were up to me I'd just put in an actual Easter egg," he said.
Waititi wanted a certain Guardians character for Thor: Ragnarok: Despite Waititi's claims that he's all but ignored the rest of the MCU, he revealed there was one character from another movie he wanted to include. "I would have liked to get John C. Reilly's character in the film but there was no real way to pull it off," he said.
Waititi did his homework. Naturally, prepping for Thor: Ragnarok involved reading some classic Thor comics, and Waititi singled out one in particluar he enjoyed. "Some runs are RIDICULOUS. However I loved God of Thunder with the Gorr villain," he said. Hmm... a hint about Ragnarok? Or just a random comic storyline Waititi happened to enjoy?
The score will be memorable. Waititi said that he was "very aware of the discussions" about Marvel's uninspiring music, but suggested Thor: Ragnarok's score, from Mark Mothersbaugh, would be an exception. "I didn't see that but I was very aware of the discussions. It was important to me that we got someone who has a very unique flavor for this," he wrote. "Our film is crazy so we needed someone to help compliment that."
Don't expect Waititi back for a sequel. Though Waititi's professed to having an "insane amount of fun" on Thor: Ragnarok, he confessed he was "not sure" he'd want to do another. "I don't want the filming to stop because it's so much fun. But I don't know how much further I can push these characters," he said. He also said that he's contracted for "just this one film," adding, "I have other things to do!"
... Though he'd be willing to return for more shorts. A fan wondered if Waititi might be willing to make "Thor and Darryl"-style sketches about the other Avengers, and Waititi answered with enthusiasm: "That would be a dream come true. I'd love to actually make a bunch of them." Hey Marvel, if you're listening, can we get some more One-Shots?
***
Thor: Ragnarok opens November 3, 2017.