Coen Brothers To Pen Silk Road Thriller 'Dark Web'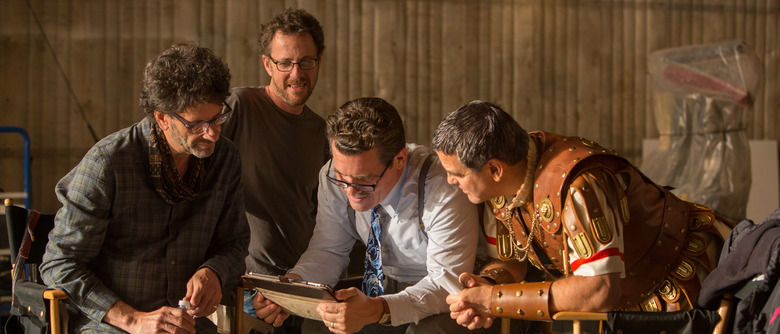 The Coen brothers haven't gotten around to announcing their next directorial effort just yet. But they have just added another screenwriting project to their to-do list. Joel and Ethan Coen have been tapped to direct Dark Web, based on the true story of the online black market Silk Road and its founder, Ross William Ulbricht (a.k.a. Dread Pirate Roberts). 
Formerly titled Silk Road, Dark Web has been in the works since about 2013. THR reports the Coens are following an earlier draft by Shutter Island and Live by Night author Dennis Lehane. The film is based on Joshuah Bearman's Wired article "The Untold Story of Silk Road." (You can read it in two parts here and here.) Published in 2015, the piece follows Ulbricht's journey from an idealistic used bookseller into a murderous drug kingpin. The Coens seem like a remarkably good fit for the project; it's previously been compared to the Coens' own Fargo for all its crazy twists and turns.
The Coens are best known for the films they've written and directed. Their most recent release was Hail, Caesar!, which proved to be a big breakthrough for future Han Solo Alden Ehrenreich. But they have often contributed to movies they don't direct, like Steven Spielberg's Bridge of Spies (which got them an Original Screenplay Oscar nomination), Angelina Jolie's Unbroken, and George Clooney's upcoming Suburbicon.
Bearman's stranger-than-fiction articles have proven irresistible to Hollywood. He wrote the 2007 Wired article that was adapted into Ben Affleck's Argo, and the 2008 Rolling Stone article that is now being adapted into the Amazon comedy pilot The Legend of Master Legend, to be directed by The Spectacular Now's James Ponsoldt. In addition, Bearman was a contributing producer on the 2007 documentary The King of Kong: A Fistful of Quarters.
Bearman will produce Dark Web with Joshua Davis, Peter Chernin, and Jeno Topping. No director has been announced.