'Ride Along 3' Is On The Way; Ice Cube & Kevin Hart To Return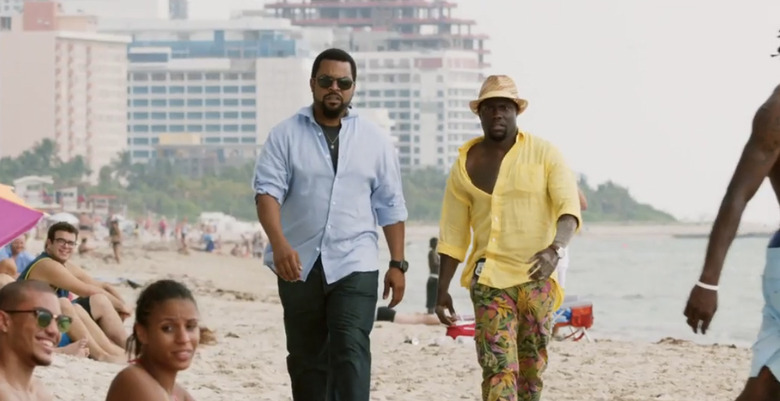 Universal is on board for another Ride Along. A third installment of the comedy series starring Ice Cube and Kevin Hart is on the way, with a script currently in development from screenwriters Phil Hay and Matt Manfredi. Director Tim Story is returning.
Speaking to TheWrap, Story revealed that his upcoming projects include Ride Along 3:
We're writing the script right now, we're writing away and basically, I'm waiting to see some pages and we're excited for the idea and what it can be and of course bringing Kevin [Hart] and Ice Cube back together because they are the greatest odd couple in the world. I'm impatiently waiting for a script to be given to me. We have some great ideas.
Story directed both previous Ride Along movies, which star Hart as an eager rookie cop and Ice Cube as a more experienced detective who also happens to be the older brother of Hart's fiancée. Hay and Manfredi worked on the scripts for both films. Both Ice Cube and Hart are expected to reprise their roles for the next movie. Less clear is which of the supporting cast members will return. Laurence Fishburne, John Leguizamo, Olivia Munn, and Benjamin Bratt have been among the co-stars in earlier installments.
The first Ride Along, released in 2014, was a surprise smash hit. It opened to $41 million in the middle of January, making back its $25 million production budget and then some, and eventually went on to rake in $154 million worldwide. Naturally, a sequel wasn't far behind. Released earlier this year, Ride Along 2 didn't fare quite as well as its predecessor, but still proved a solid performer. It grossed a total of $124 million worldwide on a $40 million budget.
Neither film set the world on fire, but the buddy cop comedy is a classic formula for a reason, and Hart and Ice Cube proved to have a funny chemistry that helped gloss over some of the movies' shortcomings. If you liked the first two, you can probably count on getting more of the same from the third.